With Chobani Back on Track, Founder Is Staying Put
Hamdi Ulukaya is looking for an operations chief but will remain as CEO.
By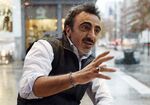 For months, speculation has swirled that Hamdi Ulukaya, the man responsible for hooking Americans on Greek yogurt, might be forced out as chief executive officer of Chobani, which since 2007 has mushroomed into a $1.2 billion affront to food giants such as General Mills and Dannon. Last year, after presiding over production delays, canceled orders, and a product recall, the entrepreneur got $750 million from private equity shop TPG Capital in exchange for preferred stock to ease a cash crunch. As part of the deal, Ulukaya was to explore bringing on a seasoned manager as CEO.
But with operations stabilizing and Chobani still growing faster than the overall yogurt market, Ulukaya now says he plans to stick around. "All that chatter out there, I look at it and I laugh and I smile," says the founder, 44. "Nobody could think of Chobani without me and me without Chobani. Walking away from this is walking away from my life."
Now that Chobani has grabbed about a quarter of the $8 billion U.S. market for spoonable yogurt, Ulukaya speaks confidently of using new products, flavor innovations, and TV ads to double the Greek category—with his company benefiting most because it only sells the Greek variety. "I'm fortunate I'm doing business in a place where the competition is pretty lousy," he says.
Greek yogurt sales have exploded in the U.S. since Chobani's debut. In 2010, Greek sales were about $550 million, or roughly 10 percent of the total market. Since then, sales have jumped about 500 percent as Greek yogurt's captured nearly half the market; meanwhile, traditional yogurt sales have slumped about 22 percent, according to Nielsen.
Analysts are skeptical of Ulukaya's growth forecasts, because total annual sales growth of Greek yogurt slowed from 114 percent in 2011 to 15 percent in 2014. And competition is now intense in the Greek category. "I think they'll need another breakthrough concept beyond thicker, creamier, more protein," says food consultant Michael Whiteman. "We've already gotten that message."
In 2012, when Chobani's sole plant in upstate New York was struggling to fill orders, it opened a second facility in Idaho, more than doubling capacity and gaining market access in Western states. But production delays arose, irritating big customers such as Wal-Mart Stores. And Chobani in 2013 had to recall mold-contaminated yogurt produced in Idaho that sickened dozens. Ulukaya acknowledges Chobani grew too quickly without putting in place sufficient infrastructure and management expertise; it's since added industry veterans in areas such as quality control. "It was not sustainable," he says. "This is not a technology company where you sit with 200 people in an office. This is a big operation—it's not possible to be everywhere."
With profits withering in 2013, Ulukaya sought the TPG loan. Kevin Burns, a TPG partner, became Chobani's interim president and chief operating officer, helping to achieve $76 million in annual cost savings. After it lost $115 million in the second half of 2013, according to TPG documents reviewed by Bloomberg (Chobani says the number is inflated), results improved. Chobani says it's posted positive earnings for 15 straight months.
Three of the Idaho production lines now churn out Flip, a container with two compartments—one filled with Greek yogurt, the other with something crunchy, like bits of dark chocolate or biscotti. The idea is to make yogurt more indulgent, wooing more men and persuading women to eat Chobani beyond morning hours, when two-thirds of yogurt is consumed. Ulukaya expects to more than double Flip sales to $250 million this year and to end 2015 with revenue of $1.5 billion. He's hired Goldman Sachs to study selling a minority stake to a larger food company with an established distribution network, as Keurig Green Mountain has done with Coca-Cola. "It will enable the company to compete more aggressively on a national scale," says IbisWorld analyst Andrew Alvarez.
Ulukaya also says he's looking for an executive to put in charge of operations, while retaining the CEO job for himself. TPG says it's OK with that. "We are pleased with the progress that Chobani has made and the future prospects under Hamdi's leadership," it said in a statement, "and look forward to being a long-term investor in the company."
—With Kiel Porter
The bottom line: Sales growth for Greek yogurt has fallen from 114 percent in 2011 to 15 percent last year.
Before it's here, it's on the Bloomberg Terminal.
LEARN MORE