New York Will Be First State With $15 Minimum for Fast-Food Workers
Freeman Klopott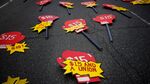 Governor Andrew Cuomo set New York on a path to become the first state to raise the minimum wage for fast-food workers to $15 per hour.
The governor announced Thursday at a joint appearance with U.S. Vice President Joe Biden that his labor commissioner had approved a recommendation that the wage floor be raised to $15 by 2018 in New York City. It would rise by 2021 in the rest of the state. The change will apply to more than 150,000 workers at large chain restaurants, Cuomo said.
Taking the plan a step further, Cuomo told a crowd of union members in Manhattan that he'll push for the $15 minimum to be expanded to all industries, a move that would require legislative approval. The plan heralds "a new economic contract with America," the Democratic governor said.
"We're putting our steps together to form a march toward economic justice," Cuomo said. "A march that says if you work full time, you should not live a life in poverty."
Biden said increases in the minimum wage will ensure that the economy's resurgence is permanent.
"We need to address the biggest issue facing not just individuals, but our economy, and that's stagnant wages," Biden said.
Seattle, San Francisco and Los Angeles have raised minimum wages recently in a nationwide response to a call from President Barack Obama to take local action amid gridlock in Washington. In July, the Los Angeles County Board of Supervisors voted to raise the minimum to $15 an hour by 2020.
Circumventing Legislature
Cuomo's proposal to expand the minimum to other industries faces stiff opposition in the Republican-controlled Senate, which this year blocked his plan to raise it to $10.50 per hour statewide and $11.50 in New York City. The current floor, $8.75, will rise to $9 at year-end.
When Cuomo's effort failed, he circumvented lawmakers by using a state law to empanel a wage board that recommended the increase to $15 for fast-food workers. Hours before Cuomo's appearance with Biden, Senate Republicans held a hearing examining the process the board used to make its suggestion.
Restaurant lobbyists and business groups assailed the decision. Heather Briccetti, president of the Business Council of New York State, said Cuomo's latest proposal is "deeply disappointing."
"The $11.50 proposed by the Governor and rejected by the Senate earlier this year would likely have a negative impact on job creation and individual businesses," Briccetti said in an e-mailed statement. "We look forward to working with our allies in the Legislature and the business community to ensure such a drastic increase is avoided."
Second Time
Thursday's event marked the second time in less than three months that Cuomo has appeared with Biden, who is considering a presidential campaign. Cuomo, who was housing secretary for President Bill Clinton, has already endorsed Hillary Clinton for president. Last week in Albany, Cuomo told reporters that he's sticking with the former first lady.
Still, the governor had kind words for the vice president.
"He is all about this country's working families," Cuomo said of Biden. "He understands their needs intellectually and he feels their plight emotionally."
The admiration was mutual. Biden called Cuomo "the best governor in America."