Iran Gets Ready to Sell to the World
In anticipation of the end of sanctions, its tankers get moving.
By and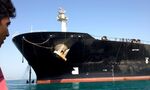 Before the most recent round of sanctions went into effect three years ago, Iran was able to sell oil to 21 countries. By mid-2012, that was down to six: China, India, Japan, South Korea, Taiwan, and Turkey. Rather than immediately pull back on production, and risk damaging oil wells by slowing them down, Iran decided to store its excess crude. As it scrambled to build onshore tanks, the government loaded millions of barrels onto its suddenly out-of-work fleet of crude-carrying vessels.
The Iranians eventually reduced their oil output by about a third, to a low of 2.5 million barrels a day in mid-2013, according to data compiled by Bloomberg. As exports fell to 1 million to 1.5 million barrels a day, Iran kept filling its tankers with oil it couldn't sell. By this summer, a large portion of its tanker fleet, one of the world's biggest, sat parked off the coast, filled with 50 million to 60 million barrels of crude and condensate, a lighter form of oil used to make petrochemicals.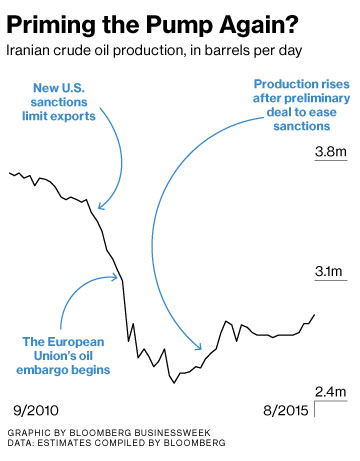 Since the nuclear agreement between Iran and six other nations was reached on July 14, the regime has been preparing to ramp up its exports and sell that stored oil. A small number of Iranian tankers believed to have been storing crude has left the Persian Gulf in the past several weeks, according to data compiled by Bloomberg. Three of those ships have since disappeared from detection by failing to report their location.
Iran's crude output has been rising for two years and now stands at about 2.9 million barrels a day, the highest level since 2012. It won't be allowed to sell that extra crude until sometime next year, when the International Atomic Energy Agency verifies that Iran has complied with curbs on its nuclear program. The monitoring needed for that to happen probably won't be in place until January or February, say three Western diplomats familiar with the nuclear monitoring process.
Oil Minister Bijan Namdar Zanganeh says sanctions will be lifted sooner. When they are, he says, production will rise immediately by a half-million barrels per day, and after four to five months, by an additional half-million barrels. He says that by then, "we will reach to a figure between 3.8 and 3.9 million barrels a day." Saudi Arabia is pumping 10.5 million barrels daily.
Even if Iran can increase production as quickly as Zanganeh claims, it may have to incentivize buyers by offering lower prices or by trading oil for goods or services, says Sara Vakhshouri, president of SVB Energy International, an energy consulting group in Washington. That's because the Saudis have used long-term contracts to lock in customers who not long ago bought Iranian oil.
The sanctions put in place in 2012 shrank the economy by about 10 percent by March 2014, according to the U.S. Congressional Research Service. A report by Anthony Cordesman of the Center for Strategic & International Studies in Washington estimates that Iran needs about $170 billion to develop its oil and gas potential. The decline in oil prices has led to a drop in Iran's own investment in its oil and gas sector—from $40 billion in 2011 and 2012 combined to only $6 billion last year, Zanganeh says. The International Energy Agency estimates about half of Iranian production comes from oil fields that are more than 70 years old.
Much of the money Iran has made through its remaining crude exports since 2012 is being held in escrow accounts in the various countries still buying Iranian crude. To reduce Iran's access to cash, Congress passed a law requiring that Iran spend oil revenue only on goods from its customer countries. The Department of the Treasury estimates Iran will be able to retrieve half that amount, or about $56 billion. That's still not enough to restart full oil production. And so the government is looking for foreign investment.
Since July, political and business delegations from Austria, Germany, Italy, and Spain have visited Tehran. "I think European companies are very eager to be involved in our projects," Zanganeh says. Iran has not met with U.S. companies, he says. "It seems they have received the order from the U.S. government not to have the meeting. The doors are open for them like others."
Some Iran watchers say Western companies will proceed with caution. "You're not going to see an energy gold rush in terms of capital investment in Iran anytime soon," says Mark Dubowitz, executive director of the Foundation for Defense of Democracies in Washington and a supporter of tougher sanctions. "The majors are still reluctant to make multibillion-dollar commitments to Iran."
—With Jonathan Tirone, Julian Lee, and Grant Smith
The bottom line: Iran says it will be pumping 3.9 million barrels a day by March, but its oil fields are old and need investment.
Before it's here, it's on the Bloomberg Terminal.
LEARN MORE