Book Review: Phaidon's Do It Yourself: 50 Projects by Designers and Artists
Phaidon tries to sell DIYers on an arty manual full of absurd projects
By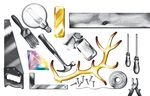 The Chinese artist and political dissident Ai Weiwei has designed a sock puppet. It looks like any sock puppet, with button eyes and a blobby body, but the creature is an alpaca, he says. One Chinese word for alpaca, caonima, is similar to the phrase cao ni ma, which means "f--- your mother." Recently the animal has become a symbol of protest against China's Internet censorship.
Now anyone can "cao ni ma." The artist contributed step-by-step instructions to the guide Do It Yourself: 50 Projects by Designers and Artists ($29.95), from Phaidon, the British art and design publisher. "This idea of making something that Ai Weiwei thought through is quite amazing," says Emilia Terragni, a publisher at Phaidon. Inside, there are also how-tos for a lampshade by Yves Béhar and a wheelbarrow chair by Christoph Böninger. All of them are fairly cheap, stuff the designers probably wouldn't deign to sell for profit. Still, Terragni says, "you can recognize their style."
Phaidon is known for high-gloss hardcover books full of beautifully made expensive things. So this foray into DIY feels odd. Even the author, design journalist Thomas Bärnthaler, admits this in the introduction: "Designer objects you can make yourself? Actually, that's a contradiction of terms." To help bridge that gap, Do It Yourself has a lustrous, coffee-table-worthy cover, but the pages inside are rough, newsprintlike paper. Each project is confined to four pages. Within that tight space, there's an artist bio, a description, a list of materials, measurements, assembly instructions, and, of course, beautiful color photos of each finished item. Phaidon wants the book to appeal to "design- and budget-conscious young professionals," says spokeswoman Meg Parsont.
DIY books go back decades. In 1968, Stewart Brand created the popular Whole Earth Catalog, which focused on self-sufficiency and ecology. Then the Internet transformed makerism into a mainstream hobby, and blog-to-book deals such as P.S.—I Made This … and Design Mom became top-sellers. Now YouTube has thousands of would-be stars teaching you to paint like Picasso or build a helicopter. Etsy, the online market for unique handmade products, had sales of almost $2 billion last year.
Given the countless digital tutorials, why bother putting out a rarefied manual? "I still believe books are very helpful, because someone put in the time to make sure everything works," Terragni says. A better motivation is that titles such as this—whether on cooking or gardening or upgrading your closet—usually sell well. While book sales are down overall, the art and home-improvement categories are both thriving, according to data from Nielsen BookScan. So Phaidon is smart to combine the categories. The concept for Do It Yourself originated from Bärnthaler's column in a German newspaper, and Phaidon helped him reach bigger names, some of whom had, or probably wanted to, put out their own books with the publisher. Everyone contributed their crafts and instructions for free.
The only problem is that none of them thought through the resourcefulness required to locate an artist's materials. I gave up on making a pretty oilcloth-covered vase by designer Stephen Burks after finding that even New York's best fabric and art stores don't carry oilcloth. Next I tried to build a sleek Gesa Hansen desk lamp, which supposedly costs $100 to make and takes 130 minutes. It took much longer to discover that Manhattan hardware stores, and even Home Depot, carry only ugly versions of the materials. Before giving up, I went on the Internet and found most of the required parts. At least I knew what to order online.
Before it's here, it's on the Bloomberg Terminal.
LEARN MORE