As Joe Biden Ponders a Run, Jill Biden Steps Into Spotlight
By
Vice president's wife leading Obama community college campaign

Jill Biden will lobby states to expand education access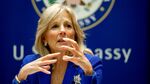 The topic was education, but the subject remained the 2016 presidential campaign.
Vice President Joe Biden's wife, Jill, resumed her role as the administration's chief ambassador for the nation's community colleges at the same time she's been thrust in the middle of her husband's decision whether to make a third bid for the Democratic presidential nomination.
Jill Biden's appearance with President Barack Obama on Wednesday at Macomb Community College in Warren, Michigan, is her first such outing since supporters and allies of the vice president began promoting the idea of a challenge to Hillary Clinton and Vermont Senator Bernie Sanders as his party's candidate for the White House in 2016.
The White House announced Jill Biden will lead Obama's new College Promise Advisory Board, putting her in the spotlight as Joe Biden gauges whether his family is emotionally ready for a White House campaign following the death of his son Beau from brain cancer in May.
"Education is my life's work," Biden told the crowd of students and teachers. "My husband, Joe, the vice president," she said, her remarks were interrupted by applause, "has traveled all across the country talking about the importance of skills training in this 21st century."
Jill Biden, who teaches at a community college in Virginia, will be at the forefront of a campaign to lobby states and cities to provide two free years of community college to high school graduates, said Cecilia Munoz, director of the White House Domestic Policy Council.
"Dr. Biden is a tremendous, tremendous asset to this," Munoz said. "The energy around college affordability all around the country is huge."
Obama Favorite
Speaking to a crowd of about 1,000 students at McComb Community College, Obama called Biden his "favorite community college professor."
The president's free-college initiative, which he announced alongside Jill Biden in January, has met resistance in Congress, where Republicans balked at the $60 billion price tag.
The issue of access to post-secondary education fits neatly within the contours of the Democratic Party platform for 2016. Both Clinton and Sanders have released proposals to cut the cost of higher education, in an appeal to college-age voters.
As chairwoman of the College Promise Advisory Board, Jill Biden will promote free community college with public service announcements and celebrity endorsements, the White House said.
Joe Biden's decision on a presidential run hinges on whether Jill Biden and the rest of his family are prepared to withstand a draining White House bid while still grieving the loss of Beau.
"The most relevant factor in my decision is whether my family and I have the emotional energy to run," the vice president told supporters at a synagogue in Atlanta last week. "The honest-to-God answer is I just don't know."
When someone in a crowd listening to Biden speak in Pittsburgh on Monday shouted "Biden for president!" he answered, "I gotta to talk to my wife about that."
Jill Biden meanwhile has signed up to teach a full course load this year at Northern Virginia Community College.
"She has always believed that her husband would make an excellent president," Jill Biden's spokesman, James Gleeson, said in an e-mail. "She will continue to support the vice president in his career as he has always supported Dr. Biden in hers."
Obama also gave his vice president praise during his speech.
"Her husband's not so bad either," the president said after thanking Jill Biden. "He's OK. I love Joe Biden."