politics
Republicans Tap Their Own Tax Mavens for 2016
A think tank beefs up to help sell candidates' tax plans.
By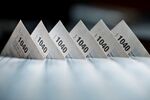 When it comes to tax policy, Republican presidential candidates have a holy grail: tax cuts that pay for themselves by unleashing economic growth. In 2012, the dominant voice when it came to judging candidates' proposals—from Herman Cain's 9-9-9 plan to Rick Perry's flat tax—was the Tax Policy Center (TPC), a Washington nonprofit jointly backed by the Brookings Institution and the Urban Institute. Its leaders and advisers include prominent Democrats and a few Republicans. In the final months before the election, it released a study suggesting Mitt Romney's tax claims didn't add up. President Obama seized on the report, using it to argue that Republicans would raise taxes on the middle class. The campaign felt it had no way to fight back, says Lanhee Chen, then Romney's policy director. "At the end of the day, there is something special about numbers," he says. "There is something about what people perceive to be independent, hard analysis, even though you can argue that the TPC has its ideological leanings."
Republicans have no intention of finding themselves in a similar position in 2016. In the past three years, donors have pumped millions into the Tax Foundation, a think tank whose analyses tend to be kinder to Republican proposals than those used by the TPC, which doesn't assume tax cuts can boost growth. Take the tax plan Marco Rubio developed with Utah Senator Mike Lee. It would cut rates, let companies write off capital investments all at once rather amortizing them over several years, and eliminate taxes on capital gains and dividends. According to the Tax Foundation, that would unleash an economic boom, with an eventual net gain of $94 billion a year for the U.S. Treasury. A plan by Rand Paul to institute a consumption tax would have similar—though smaller—effects, according to the Tax Foundation. (The TPC hasn't yet released an analysis of either plan.)
The Tax Foundation allows candidates access to its model before they release their plans, so they can refine their proposals. "They can test-drive it, so to speak, and work out all the bugs before they go live," says Scott Hodge, the foundation's president.
The think tank's board includes tax executives from PepsiCo, Microsoft, and Eli Lilly, as well as two former Republican congressmen, Pennsylvania's Phil English and Bill Archer of Texas. In 2014 the foundation raised $3.7 million, split about evenly between businesses and nonprofits. That's up 73 percent from 2012. The expansion followed the think tank's absorption in late 2012 of the Institute for Research on the Economics of Taxation, a small nonprofit run by Stephen Entin, who served in the Treasury under President Reagan.
Entin provided the Tax Foundation with his economic model, which incorporates projections about how individuals and businesses will change their behavior in response to various tax incentives—and about how those changes will affect the overall economy. The model doesn't try to predict how the Federal Reserve would respond to higher deficits, a key feature of dynamic models used in government, because Entin believes the Fed's decisions have limited impact on long-term investments. It also assumes that expansions of benefits such as the child tax credit, which don't affect marginal tax rates, have zero stimulative effect on consumer spending.
Economists of both parties have questioned the assumptions used by the Tax Foundation, particularly that letting companies write off the value of their investments in a single year can yield dramatic increases in capital spending. In August, Keith Hall, the Republican-appointed director of the Congressional Budget Office, said tax cuts don't pay for themselves. "There's a whole lot of assumptions about behavior that you have to make" in any model, says Eric Toder, a co-director at the TPC. "It's not just a matter of simple mechanics of savings and investment."
The TPC has refined its tax model, too, and it's contemplating a review panel to examine its analyses before they're released during the coming campaign. "It's important to exercise extreme caution so that people don't think we're trying to play favorites or play sides, because we're not," Toder says. Romney adviser Chen says it's important for Republicans to make a data-based case to voters—and to have a buffer against Democratic claims that their tax cuts benefit the rich: "You're much better off in a 'he said, she said' than in a 'he said.' "
Before it's here, it's on the Bloomberg Terminal.
LEARN MORE