Joe Biden on Presidential Run: 'I Would Not Hesitate' If Emotional Energy Is There
The vice president continues to weigh the plusses and minuses of jumping into the race.
By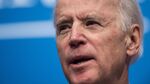 Vice President Joe Biden opened up for the first time publicly about his painful deliberations over whether to run for president so soon after his son Beau's death to brain cancer, saying the key question is "whether my family and I have the emotional energy to run."
"Can I do it? Can my family undertake what is an arduous commitment that we'd be proud to undertake in ordinary circumstances?" Biden told an audience of 2,000 people at an Atlanta synagogue Thursday night, during a question-and-answer session following a speech he gave on U.S. foreign policy. "The honest-to-God answer is I just don't know."
"If I can reach that conclusion and we can do it in a fashion that would still make it viable, I would not hesitate to do it," he said. "But I have to be honest with you and everyone who's come to me. I can't look you straight in the eye and say now I know I can do it."
"Unless I can go to my party and the American people and say that I am able to devote my whole heart and my whole soul to this endeavor, it would not be appropriate."
Biden, who wrapped up a two-day trip to the Southeast to promote the Obama administration's policies on community colleges, job creation, and an Iran nuclear deal, and to raise money for Senate Democrats, said speculation about other factors, such as whether he can raise enough money or put together enough of an organization to mount a successful effort this late in the process, have been overblown. "That's not the factor," he said.
While the vice president has spoken privately about his family's struggle with grief in conversations with longtime backers in recent weeks, and last week touched on these concerns in a call with Democratic National Committee members, his remarks Thursday marked the first time he has been prepared to detail the matter in public.
Biden had been expected to decide by the end of this month whether or not to seek the Democratic Party's nomination against Hillary Clinton and Bernie Sanders.
Biden said he had learned after the deaths of his first wife and infant daughter in a car accident in the 1970s that "there's no way to put a timetable" on grief. Biden's son Beau is said, in his final months, to have encouraged his father to seek a third run for president.

If Biden does run for president, his two-day visit to the Southeast this week served as a preview of what much of his early stump speech might sound like: An embrace of his age (72), establishment experience (four decades in Washington politics), and failed bids for president (1988 and 2008) as strengths rather than strikes against him.
Biden could also position himself as the White House's resident "optimist," "skeptic" and occasional "skunk at the family picnic," distinctions that may give him credibility to explain the merits of administration policies to dubious voters. This week's defense of the Obama administration's multilateral approach to foreign policy, of the Iran nuclear deal as a shining example, and of managing the U.S. relationship with China as a key priority going forward also served as a potential preview of what might follow in a presidential campaign. 
Other highlights included a reluctance to engage U.S. ground troops to fight terrorist threats such as the Islamic State, while embracing the notion of maintaining U.S military might, as well as calls for more investment in domestic infrastructure and college education, and an immigration policy overhaul.
Biden returned again and again to these themes—in his speech Thursday night at Ahavath Achim Synagogue in Atlanta, in a smaller discussion about the Iran nuclear deal earlier in the day with roughly 30 Jewish leaders in South Florida, and at a speech on education and the economy Wednesday at Miami Dade College.
In Atlanta, Stuart Eizenstat, who served in the Jimmy Carter and Bill Clinton administrations and as a special adviser to the Obama administration on Holocaust, introduced Biden, his friend since the 1970s, saying that Israel has had "no greater friend than Joe Biden" for the last four decades.
Eizenstat spoke of Beau's death and told the vice president that "our hearts go out to you." "What a career—and it's not over yet," Eizenstat said.
As Biden took the podium, he started out speaking more quietly than normal and when someone asked him to talk louder, Biden said he'd oblige, while explaining, "I'm trying to sort of control my emotions right now."
His speech brought to a close a two-day trip that began in South Florida, and that has generated intense interest because of the speculation over his 2016 plans. The vice president fueled the speculation at a community college appearance Wednesday in Miami with jokes and musings that seemed infused with double meaning.
But at a closed-door fundraiser Wednesday night for Senate Democrats, he had dialed it back, dropping no hints about his own interest in a run according to people who attended, while praising Sanders, a senator from Vermont, for having excited many Democrats. Sanders, a socialist, is Clinton's chief rival now for the nomination, and many Democrats believe Sanders' ability to undercut the Democratic front-runner is ultimately good for Clinton.
Biden chose not to flirt at all with 2016 politics in his meeting Thursday with about 30 Jewish community leaders in South Florida assembled by U.S. Representative Debbie Wasserman Schultz, who also is chairwoman of the Democratic National Committee. The meeting came a day after President Barack Obama appeared to have secured enough official commitments in Congress to prevent the Iran nuclear accord from being derailed.
While many in the crowd were prominent Democratic donors, their primary interest was discussion of the nuclear accord, which has divided the Jewish community. Thursday's group was a mix of supporters, opponents and others on the fence who Biden sought to assure. In remarks that were open to press coverage and later in a two-hour closed-door session, Biden stayed on topic addressing questions about centrifuges, sanctions, terrorism and Israel. Attendees there said Biden spoke entirely about Iran. At the David Posnack Jewish Community Center in Davie, Florida, Biden said that he had been "sort of the skeptic in the administration" who needed convincing before buying into the deal. But the former head of the Senate Foreign Relations Committee said he now believes it will make the U.S. and Israel safer, not weaker.
With Senate Democrats holding firm to sustain a presidential veto if the Republican majority passes a resolution disapproving of the deal, the administration's next goal is preventing opponents from getting the 60 votes needed for such resolution to make it to the Senate floor. Only two Senate Democrats, Charles Schumer of New York and Robert Menendez of New Jersey, have publicly announced opposition to the agreement to date.
The Republican-led opposition in Congress has until the end of Sept. 17 to act on the deal, reached in July by the U.S. and five other world powers with Iran.