politics
What American Politicians Get Wrong About Pope Francis
Despite reaction to his abortion announcement this week ahead of a U.S. visit, the Catholic leader isn't interested in being co-opted by either team.
By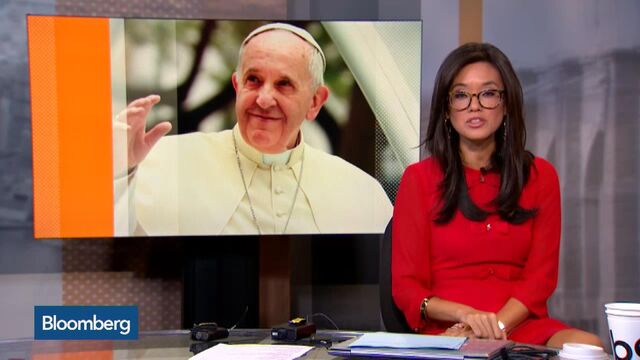 Pope Francis made big news on Tuesday with an announcement intended to make life in the Catholic Church a little easier for women who've had an abortion.
Here it is: In some places in the world, women seeking forgiveness for that particular "grave sin" in the confessional will be able to get absolution more easily during the upcoming "Year of Mercy." That's because priests won't have to refer the matter to their bishops, as they now do. In the United States, that's already how it works, so the practical effect here will be negligible. 
Nevertheless, this bulletin was "Who am I to judge?" all over again.
"Pope Francis shook up the Catholic world," CNN reported.
He hadn't, though. Not this time, anyway. "The most revolutionary thing is what he said about the Lefebvrists," said canon lawyer Kurt Martens of the Catholic University of America. Martens was referring to the pope's simultaneous announcement that priests from the Society of St. Pius X, a breakaway group of traditionalists who, like their founder, Marcel Lefebvre, don't acknowledge the teachings of Vatican II, will nonetheless be able to absolve sins during the special year of mercy that begins in December. "The rest is already happening," Martens said. 
What he means is that bishops in North America have already given priests license to absolve the sin, which is how the church views abortion. Bishops have also allowed priests to remit the automatic penalty for the sin, which is excommunication. 
But like everything the pope does, his pastoral outreach to women in that situation was naturally seen as a political act—and not only political, but political in American, R-versus-D terms: "Papa Francesco has taken this decision away from the bishops—including those American wingnuts who want politicians who support a woman's right to choose refused communion and/or excommunicated—and placed it in the privacy of the confessional, where it is between a woman and her parish priest," according to an analysis in Esquire. "Moreover, the subtext of this latest pronouncement is that Papa Francesco feels he has bigger fish to fry than policing the sexytime of his flock." 
That is subtext so subtle even Francis doesn't know about it. But then, all attempts to squeeze the pope into secular political categories miss what he's really trying to do, which is preach the Gospel.
Yes, during the pope's trip to the United States at the end of the month, he is expected to talk about immigration in ways that will please Democrats and about religious liberty in ways that will gladden Republican hearts. On the environment, he might pass for a Democrat, and on the family, for a Republican.
He isn't either, though, and to tally the number of mentions that make Nancy Pelosi and John Boehner stand and applaud as he addresses Congress would, again, be to disregard the fact that Francis isn't interested in being co-opted by either team, but in converting the red, the blue, the purple, and those of no political stripe.
For him, the conventional view that GOP presidential candidates are moving to the right on abortion wouldn't even compute; in the Catholic perspective, protecting the vulnerable in utero is as progressive as Christian teaching on feeding the hungry and welcoming the stranger and paying a living wage.
Still, partisan warfare on the abortion issue will be intense during his visit, and it's Republicans who are trying to time a vote on a Senate bill that would ban abortion after 20 weeks to coincide with the pope's visit.
The tiny, barely funded group Democrats for Life, meanwhile, is trying to get Republicans to include paid family leave and other additional support for women in the measure. "If we're going to end abortion," said the group's director, Kristen Day, "we have to address the reasons it's sought in the first place."
While various evangelical groups have signed on, however, the Catholic bishops have not. "I wish bishops would say more about the really difficult circumstances in which our culture puts women," said Charles Camosy, a Catholic theologian at Fordham and author of Beyond the Abortion Wars.
Marjorie Dannenfelser, who heads the anti-abortion lobby Susan B. Anthony List, said tacking on paid family leave "would be a good way to kill the bill. Not because it's not a great idea," but because there's no guarantee that any Democrats would support the European-style, 20-week ban if only it included more help for moms. "And we don't have any idea how Ted Cruz would vote on that," she said, or any other Republican, either.
Both parties will be putting on the Pope Francis t-shirt while he's here, but between Hillary Clinton likening those Republican candidates who agree with Francis on abortion to terrorists and Donald Trump vowing to deport the undocumented immigrants who have been a major focus for the pontiff, neither party's front-runner is up for an endorsement.
Before it's here, it's on the Bloomberg Terminal.
LEARN MORE