Drink
Meet Kenta Goto, the Quiet Mastermind Behind New York's Best New Bar
Plus, a recipe for his best cocktail, the Yuzu-Calpico Fizz
By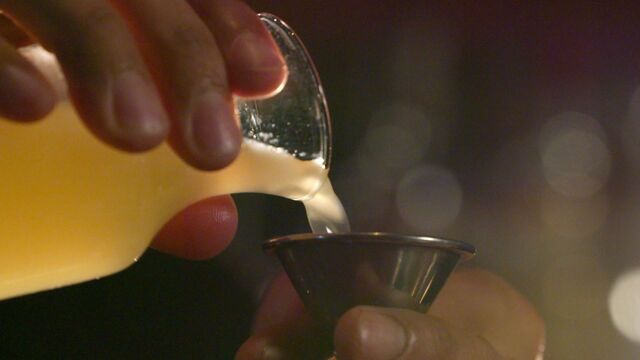 The okonomiyaki is carefully striped with Kewpie mayonnaise, as if it were some kind of delicate confection rather than a fat, formidable pancake of cabbage and yam. Cherry blossoms bob in the martinis.
Kenta Goto's newly opened Japanese-American bar, Bar Goto, is part izakaya, part luxe cocktail den, and a proper gem—a tiny room in New York's Lower East Side with golden walls and a tightly edited list of about eight cocktails.

If the man behind that gleaming walnut bar looks familiar in his pressed shirt and vest, it might be because you saw Goto at the Pegu Club, where he worked for Audrey Saunders for more than seven years.
Fans—and he has many—who are feeling nostalgic for Goto's Pegu days might be happy to find the Far East Side on the menu. It's a dry sake cocktail Goto once mixed to remind us that sake-tinis can be fine and subtle and multilayered (especially when they're dosed with a little tequila and elderflower and garnished with a wide, toothed shiso leaf). And it still does the trick.
But my favorite drink on a recent visit to Bar Goto was a new one.
The Yuzu-Calpico Fizz is a big, tangy highball you can drink quickly on a hot day (see recipe below). That sweet, mellow fizz is Calpis (in North America, Calpico), a soda made from fermented milk that you can find at most Japanese grocery stores in town. It's not a fancy ingredient, but the way Goto uses it adds something to the drink that's hard to describe, giving the gin a density and a mellow sort of sweetness. It's delicious.
Goto's mother ran an okonomiyaki restaurant in Chiba, Japan, when he was growing up, and he borrowed her recipe as a starting point for the kitchen. Along with Bar Goto's head chef, Kiyo Shinoki, he tweaked the base of egg, flour, and grated yam and cabbage, and now the bar offers four kinds (including a wonderfully hefty vegetarian version with Chinese leeks and mushrooms). 

Even if you're not in the mood for anything fussy, Bar Goto can still be the right place to end up after a hard day. There's a beer-and-a-shot deal ($10) that won't raise any eyebrows. This pairs particularly well with the heaviest, least traditional okonomiyaki on the menu, filled with three kinds of cheese.
Yuzu-Calpico Fizz
By Kenta Goto of Bar Goto, New York
3/4 oz. lemon juice
1/2 oz. Calpico soda
1/4 oz. cane syrup
2 teaspoons yuzu marmalade
2 oz. gin (Beefeater)
Calpis marshmallow (optional) 
Combine all ingredients in a mixing tin, making sure the marmalade is dissolved by shaking without ice. Shake again with ice and strain into a highball glass. Top with club soda. Garnish with a Calpis marshmallow.
Bar Goto is at 245 Eldridge St. (East Village); 212 475-4411 or bargoto.com

For the best in travel, food, drinks, fashion, cars, and life, sign up for the Pursuits newsletter. Delivered weekly.
Before it's here, it's on the Bloomberg Terminal.
LEARN MORE