Chris Christie Says He Could 'Go Nuclear' in Next Republican Debate
Terrence Dopp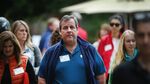 New Jersey Governor Chris Christie told late-night television host Jimmy Fallon he won't keep quiet if he's passed over for questions during the next Republican Party presidential debate later this month.
Making his third appearance on NBC's "The Tonight Show Starring Jimmy Fallon," Christie said he counted one stretch during the first debate Aug. 6 in which he went 20 straight questions without being called on. Next time, Christie said, he promised to "go nuclear" if he feels slighted.
"I'm up there standing next to Marco Rubio and at one point we were like 'are we still here,'" Christie said during the 20 minute segment with Fallon Monday. "If I get to like 15 questions in a row -- count 'em at home -- they'll say uh oh, he's going to go nuclear now."
Christie, whose campaign slogan is "Telling It Like It Is," said he isn't worried that real estate mogul Donald Trump will replace him as brashest member of the crowded field of candidates.
Christie, 52, is a frequent subject of Fallon monologues, with jokes about his girth. At one point during the appearance, which was his sixth with Fallon over the course of the host's two separate shows on NBC, Christie walked off stage in mock indignation to a fat joke and at another stage made fun of himself in what he called a preemptive strike.
He began the appearance by lip-syncing to "Born In The U.S.A." by Bruce Springsteen, a favorite singer of Christie's since he was young. During the segment, Christie repeatedly ribbed Fallon as accident prone, citing a recent hand injury and a chipped tooth.
Ben & Jerry's
Christie appeared on the show in April, sharing a pint of Ben & Jerry's ice cream with the host; and last year, gyrating for a skit called "The Evolution of Dad Dancing."
The two-term governor has struggled to gain traction in early-voting states since he announced his run for president on June 30. A Bloomberg Politics/Des Moines Register Iowa poll last week showed him with the support of 2 percent of Republican voters. Christie has said he's confident he'll be on the main stage at the Republican debate on Sept. 16.
The Fallon appearance came a day after Christie attempted to deflect criticism of a comment he made at a New Hampshire campaign stop that the U.S. should keep tabs on immigrants the same way FedEx Corp. tracks parcels. Appearing on "Fox News Sunday," the governor said he understands people are not akin to packages and was pointing out the extent to which the private sector leads government in the embrace of technology.
Christie turned down calls from business and political leaders to run for president four years ago, and has struggled to recapture that momentum after his allies created a massive traffic snarl on the George Washington Bridge as political retribution against a mayor. His approval rating at home has fallen to a low of about 30 percent.
"Life is a strange, strange ride, Jimmy, and we'll just keep riding it," Christie said as he discussed Trump and the race. "I'm not going to worry about Donald or anybody else. I'm going to worry about myself and being me. We'll see what happens."