Carly Fiorina Prevails in Fight Against CNN Debate Rules
The network says it's amended its debate criteria.
By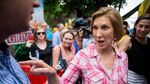 Carly Fiorina is no longer being relegated to the kiddie table.
CNN announced Tuesday that it was revising its criteria so that "any candidate who ranks in the top 10 in polling between August 6 and September 10 will be included" in the prime-time Republican debate on Sept. 16. Fiorina has consistently polled in the top 10 of GOP candidates after delivering a standout performance in the Aug. 6 Fox News/Facebook undercard debate for Republican presidential hopefuls.
"THANKS TO YOU, we will be able to share our message of leadership and citizenship with Republican voters on the main debate stage," the former Hewlett-Packard CEO told supporters on Twitter. "…and thank you to @RealBenCarson and @realDonaldTrump who spoke out in support of a fair debate process."
For the past month, Fiorina has waged a campaign on social media to try and pressure CNN to amend its rules so that polls taken before the Aug. 6 debate received less weight in the calculations of who would be included in second debate. 
On Tuesday, Fiorina's campaign promoted a letter signed by political and business leaders that put pressure on both CNN and the Republican National Committee to allow her to join the primetime fray. 
"Carly Fiorina is a top tier candidate in this race. She won the last debate and has been in the top 10 in every poll released this month," the letter said. "To ensure a fair and representative process, your network should seat her alongside the other candidates polling in the top 10."
Among those calling for Fiorina to be allowed into the Sept. 16 debate was pollster J. Ann Selzer, who conducts surveys for Bloomberg. "The reason it is so mystifying that CNN wants to anchor candidates to polling data from July is that those politicians have spent a whole lot of money since then in an effort to change poll numbers," Selzer wrote for Bloomberg Politics. "Any change since the first debate will be bleached out by the old data gathered before the first. The candidates deserve better."
CNN's new criteria means that more than 10 Republican candidates may now be invited to the next debate. 
"In the event that any candidate is polling in the top 10 in an average of approved national polls released between August 7th and September 10th, we will add those candidates to our top tier debate, even if those candidates did not poll in the top 10 in an average of approved national polls between July 16th and September 10th," CNN said in a statement. "We have discussed these changes with the Republican National Committee and the Ronald Reagan Presidential Library, and they are fully supportive."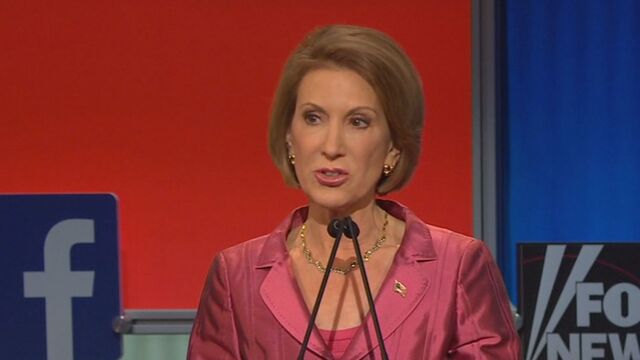 Ben Carson, one of the men Fiorina will face on the Sept. 16 stage, welcomed her inclusion. 
"I am pleased to learn that CNN has decided to change their program format to specifically include Carly Fiorina on the platform for the prime time September 16 Republican Debate," Carson said in a statement on Tuesday. "Carly has proven her viability and standing and deserves the same platform as the rest of the candidates."
RNC Chairman Reince Priebus also applauded CNN's move. 
"I applaud CNN for recognizing the historic nature of this debate and fully support the network's decision to amend their criteria," he said.
CORRECTION: An earlier version of this story incorrectly stated the date of the debate. It is Sept. 16.