Elizabeth Warren's Harsh Critiques of Joe Biden Surface
The vice president and the Massachusetts senator have a history of sparring over bankruptcy legislation for more than a decade.
By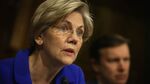 Perhaps those rumors about a Biden/Warren presidential ticket were a tad overblown. 
A 2002 article written by Elizabeth Warren excoriates then-Senator Joe Biden as a champion of credit card companies and a foe of women over his support of legislation making it more difficult for Americans to seek bankruptcy protection. 
"The group that will be most affected by the changes in the bankruptcy legislation Senator Biden so forcefully supports will be women, particularly women heads of household who are supporting children," Warren wrote in the Harvard Women's Law Journal.  
"Not a single women's group that has spoken publicly about the bankruptcy bill agrees with him, but his public position as a champion of women seems untarnished," Warren added, according to the International Business Times.  
The article, which was penned by Warren when she was a Harvard law professor, comes to light little more than a week after Biden held a private meeting with the Massachusetts senator, sparking speculation in some quarters that the two might be plotting a united Democratic presidential ticket to take on front-runner Hillary Clinton. 
Portraying Biden as a "zealous advocate on behalf of one of his biggest contributors," Warren in the 2002 article noted the connection between the credit card industry and Biden's home state of Delaware. 
Responding to the renewed attention the article was receiving, a Biden aide told the IBT that "the vice president has been a champion for middle-class families and has fought against powerful interests."
Warren's criticism of the man who would go on to become Barack Obama's vice president didn't stop there. 
A year later, in 2003, Warren wrote in her book The Cement Life Raft that "[s]enators like Joe Biden should not be allowed to sell out women in the morning and be heralded as their friend in the evening."
In 2005, Warren testified before the Senate Judiciary Committee and faced down a contentious line of questioning by Biden, who portrayed Warren's portrayal of  the bankruptcy legislation as "mildly demagogic."