This Tactile Map of Burning Man Is Awesome, No Matter Your Level of Sight
Jaded haters of the Burn, this innovative map might just change your mind.
By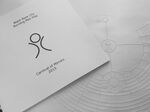 Smartphones, apps, and text readers have radically improved access and navigation for the blind, as CityLab has shown before.
But what happens when GPS and WiFi signals are glitchy, like in Nevada's Black Rock Desert? Or what if you're headed somewhere that, with or without sight, is a little intimidating—say, a temporary metropolis laid out like a clock around a humanoid pyre, populated by naked people on vision-quests?
Blind Burning Man attendees, there's a tactile map for you.
Made with an embossing printer and thick sheets of paper, tactile maps bring (literal) new dimension to the representation of space. San Francisco's LightHouse for the Blind has been leading the charge on such maps since 2013, when they printed their first BART transit guides. So that the maps are legible to anyone who's familiar with Braille, LightHouse keeps them de-cluttered and clean, without excess information. They're labeled with large-print text, so that people with residual or full sight can also use them—or simply appreciate them. From a design perspective, these maps are very appealing.
The Burning Man guide is particularly cool, not only because it features such locations as "Thunderdome" and "Temple of Promise." It's also got a certain inspiration factor.
"I've gone to South-By[-Southwest] and other festivals, but Burning Man always seemed slightly too wild," says Will Butler, who is LightHouse's media and communications officer and has low vision himself (full disclosure: he's also a friend of mine). "As soon as I got this map into my hands, it started to seem doable."
The map originated as a surprise gift for LightHouse's Executive Director and CEO Bryan Bashin, who is blind and a longtime Burner. Although other obligations interfered with Bashin's plans to hit the Playa this year, another LightHouse representative will be there, with a couple of extra maps in her hand. Butler says she'd be happy to print out more for any blind Burner who wants one, as long as they get in touch before the festival kicks off on Sunday.
LightHouse will keep up its tactile mapping after Burning Man wraps, including making guides for other music festivals. This kind of access-creation is a new frontier in the blind community—a long way from even those ultra-utilitarian BART guides.
"Those maps felt more like institutional support, which we're used to hearing about," Butler says. "The Burning Man map is about supporting blind people in a recreational, or even spiritual, adventure. That's a totally different model of blindness than we're used to."