The Koch Brothers Have an Immigration Problem
They want to attract Latinos, but Tea Partiers are rallying to Trump, who "says what everyone else is thinking."
By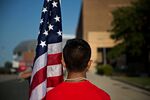 Every year, Americans for Prosperity (AFP), the political group backed by the billionaire brothers Charles and David Koch, gathers thousands of conservative activists to share strategies for building a popular movement to advance their small-government, low-tax philosophy. This year's Defending the American Dream Summit, held in Columbus, Ohio, on Aug. 21-22, attracted about 3,600 people to compare notes for weakening labor unions and stopping Medicaid expansion. Yet everyone on the floor seemed to be talking about the one topic left off the agenda: immigration.