The Koch Brothers Have an Immigration Problem
They want to attract Latinos, but Tea Partiers are rallying to Trump, who "says what everyone else is thinking."
By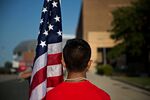 Every year, Americans for Prosperity (AFP), the political group backed by the billionaire brothers Charles and David Koch, gathers thousands of conservative activists to share strategies for building a popular movement to advance their small-government, low-tax philosophy. This year's Defending the American Dream Summit, held in Columbus, Ohio, on Aug. 21-22, attracted about 3,600 people to compare notes for weakening labor unions and stopping Medicaid expansion. Yet everyone on the floor seemed to be talking about the one topic left off the agenda: immigration.
That may be a problem for the Kochs and their network of like-minded donors, who've invested heavily in broadening their appeal beyond the traditional conservative base of older, white voters—and, specifically, in appealing to minorities, immigrants, and young people. In Columbus, activists got training on how to reach Snapchat-happy millennials and knock on doors in black neighborhoods to spread the gospel of the free market. They heard a former farm laborer, the son of Mexican immigrants, describe a Koch-backed program in Las Vegas that helped Latinos pass their driver's tests and get licenses. The crowd dutifully took notes and applauded politely.
When it was time to file into the bleachers to see presidential candidates speak, talk of outreach faded away. The crowd went wild for Texas Senator Ted Cruz, whose plan for guarding the Mexican frontier includes 90,000 repurposed IRS employees, and for Bobby Jindal, the Louisiana governor, who promised to build a wall on the nation's southern border within six months. "Immigration without assimilation is invasion!" proclaimed Jindal, the son of Indian immigrants.
The message struck a chord with summit-goers as they filed into a nearby bar for an AFP-sponsored "Buckeye bash." "Send 'em back," said David Dandrea, an 82-year-old former school custodian from Altoona, Pa., referring to undocumented immigrants. "A lot of them are coming over and getting on welfare. They overload the hospitals. A woman who's eight months pregnant comes over the border to have her kid." Fellow conservatives in bright red and highlighter-yellow AFP T-shirts wandered past. John Mellencamp's "Hurts So Good" blared from the speakers.
Donald Trump, who's dominated media coverage of the presidential race and made a crackdown on "the illegals" the centerpiece of his campaign, was never far from people's minds in Columbus. Praise for Trump, who wasn't invited to speak, was virtually unanimous, even from those who said they were backing other candidates. "He's like the last little bit of salt you put in the stew to bring out the flavor," said Rita Singer, a retired fabric store saleswoman from Moncks Corner, S.C. "He says what everyone else is thinking."
Tim Phillips, the president of AFP, cautioned against reading too much into the Trump buzz. "It's partly impacted by the breathless 24/7 coverage," he says across the street from the Greater Columbus Convention Center, where the event was held. "If the summit were in two more months, and it's 24/7 coverage of the Iran nuclear deal, you would find people bringing that up more." Phillips pointed out that the activists the Koch network cultivates care about all kinds of issues, from abortion to gun control, but AFP, he said, remains solely focused on shrinking government and taxes. "We still have good friends who care passionately about these issues," he says. "It shows a healthy, vibrant movement to have those discussions."
The Kochs' wealth comes from Koch Industries, the Wichita industrial behemoth they run. Their net worth is estimated at about $49 billion each. They've bankrolled libertarian causes for decades, although in recent years they've forged bonds with nontraditional allies. They gave $25 million to the United Negro College Fund and are working with the Obama administration to reduce the ranks of nonviolent drug offenders in the nation's prisons. Yet they've also come to rival the Republican Party as an organizing body of the American right, securing pledges from other wealthy donors to spend as much as $889 million this year and next pushing their agenda.
Their strategy for recruiting Latinos hinges on Daniel Garza, a son of migrant fruit pickers who runs the Libre Initiative, funded by Koch-affiliated groups including the nonprofit Freedom Partners. Seated before more than 500 AFP members in Columbus, he described going door-to-door in Latino neighborhoods to make the case against Obamacare. When someone asked if Trump is threatening conservatives' chances with Latinos, Garza said conservatives need to be respectful and appreciate the crucial role that immigrants play in the U.S. economy. He called Trump's proposal to deny citizenship to the children of undocumented immigrants "not realistic."
Dorothy Osborne, a stay-at-home mom from Tennessee, disagreed. "Yes it is!" she called out as Garza spoke. In the hallway outside, Osborne said she agrees with much of Garza's message. "We have to go and talk to these people," she said. "We want them to love freedom." But she said she doesn't think an immigration crackdown would alienate Latinos who live here legally. "It's economics, it's crime, it's the drain on our resources. And it's keeping America American," she said. "If our country becomes more like Venezuela, that's not helping anyone."
Before it's here, it's on the Bloomberg Terminal.
LEARN MORE