Bankers Relish Big-Fish Roles in Smaller Ponds
Regional lenders are raiding Wall Street for experienced execs
By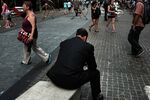 Wall Street banks have been losing talent to hedge funds, buyout firms, and technology companies. Now they have new competition for recruits: smaller lenders in Ohio, Rhode Island, and other states outside the financial establishment.
About half the new hires for senior-level openings at midsize regional banks are people whose résumés list institutions such as Citigroup and JPMorgan Chase, says Robert Voth, a managing director in the financial-services group at Russell Reynolds Associates, a recruiting firm. The share was about a fifth before the 2008 credit crisis.
Although regional banks can't match the potential compensation that investment companies and Silicon Valley offer, they're highly motivated hunters. They must adapt quickly to new regulations, technology, and competition from online startups, so they have to look for candidates from companies in the vanguard of the industry, recruiters say. "Regional banks don't have a deep bench of people with those skills," Voth says, "so they often have to look upstream."
Terry Katon, who heads the capital markets unit at Regions Financial, in Birmingham, Ala., says he hires mostly from global banks. Once someone joins from a big company, former colleagues are more likely to follow, says Katon, who was at Bank of America before joining Regions in 2009. Four of his five product chiefs are from much larger rivals. "We are able to sell them the story of building something at a newer platform at an institution that is not as well developed in their area," he says. "People are very eager to find something new."
In interviews, more than a dozen senior-level defectors cited a variety of reasons for moves in the past two years: the chance to influence big decisions without being overwhelmed by bureaucracy; the desire to play the hero in a turnaround; and the need for a better work-life balance. Executives wouldn't specify their pay, but several described it as competitive. While compensation is often the key lure in filling investment banking positions, recruiters say bankers in other lines of business typically consider a variety of factors when weighing whether to jump ship.
After 16 years at Goldman Sachs, Maria Teresa Tejada says it became clear she wasn't going to clinch one of the firm's coveted partnerships. A managing director in London's risk underwriting group, Tejada didn't interact with many of the firm's New York-based leaders, and her work within a team made it difficult to show how much she contributed to the bottom line. She also struggled to find a mentor to advise her on navigating the partner process.
Now, as chief credit officer at KeyCorp, based in her hometown of Cleveland, Tejada has the accountability and decision-making role she craved. Moving from London's pricey South Kensington neighborhood to Cleveland's more affordable Shaker Heights added a benefit she hadn't expected: "We could give our daughter a better life. She could ride her bike to school and spend time in the outdoors."
Eric Aboaf's job at Citigroup was anything but boring. Just months before naming him treasurer in 2009, the bank took a $45 billion bailout to survive the financial crisis. For five years, he was in charge of making sure cash flowed as the company slashed assets, simplified operations spanning more than 160 countries, and repaid taxpayers. "We put Citi back on its feet, and I felt like in some ways I had accomplished a lot—so what's next?" he says.
The answer was building something. Citizens Financial Group Chief Executive Officer Bruce Van Saun enlisted him this year as finance chief to help the Providence lender expand after it was spun off from the struggling Royal Bank of Scotland Group. "This is about being part of a real turnaround," says Aboaf, who started his new job in April. "At a midsize bank, you're closer to the businesses."
Van Saun says that after last year's spinoff, his bank needed to quickly find its sea legs as a publicly traded company. "Getting a couple of folks in high-profile roles who understand that and can help impart that into our culture I think is going to be very valuable," he says.
The bottom line: Half of recruits at midsize regional banks are coming from big Wall Street firms, up from just a fifth before the crisis.
Before it's here, it's on the Bloomberg Terminal.
LEARN MORE