Is Donald Trump Just a Summer Fling?
There are significant differences between the billionaire's political ascendancy and those of other flash in the pan candidates.
By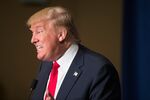 Without a doubt, the summer's biggest political story is Donald Trump's surge to the top of the 17-candidate-strong Republican presidential field.  And, when it comes to assessing Trump, there is an odd alliance between quantitative geeks and media pundits.  Although both continuously write and talk about Trump, the conventional wisdom is that Trump's surge is akin to a sugar high.