Why Hillary Clinton Decided E-mail Issue Was No Joke
She very consciously shifted her tone this week: "I get it."
By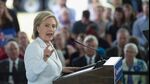 Asked by a reporter last week if she had wiped her e-mail server clean, Hillary Clinton responded glibly: "What, like with a cloth or something?"
A week earlier, she told Democratic activists in Iowa that she loves Snapchat because "those messages disappear all by themselves."
Now, with fall approaching, her numbers slipping in some polls and Vice President Joe Biden seriously considering getting into the presidential race, she very consciously shifted her tone this week.
"I know people have raised questions about my e-mail use as secretary of state, and I understand why. I get it," she said Wednesday in Ankeny, Iowa, responding to a reporter's question during a short press conference.
"My use of personal e-mail was allowed by the State Department," she said, but "it clearly wasn't the best choice. I should've used two emails: one personal, one for work. And I take responsibility for that decision."
Clinton acknowledged that there are legitimate questions about her use of a private server that should be examined and that the investigation of the transmission of possibly classified information through that account is warranted but will exonerate her. "I'm confident that this process will prove that I never sent nor received any email that was marked classified," she said.
Even before she officially entered the presidential race, Clinton faced reporters at the United Nations to defend herself, saying she relied on a private account because it was the most convenient option, a way to correspond about yoga and her daughter Chelsea's wedding from the same BlackBerry from which she exchanged notes about government business.
She insisted that Americans didn't care, that only reporters–and Republicans determined to undermine her presidential campaign–seemed interested in the issue.
As the FBI launched an investigation, she dismissed concerns about the handling of information that the intelligence community said should have been classified at the time as little more than routine inter-agency squabbles.
And as the debate over classification heated up, she turned to the jokes about Snapchat and wiping her server clean with a cloth, a line ripe for mockery and, from the right, derision. 
None of it worked as Clinton and her team had hoped.
In a Quinnipiac University survey released Thursday, 61 percent of those surveyed said that Clinton is not honest and trustworthy, the worst she's ever done on that measure in that poll.
Fifty-six percent of Americans polled by CNN earlier this month said they thought Clinton had done something wrong with her e-mail account, up from 51 percent in March. Democrats are more skeptical, too. In March, 71 percent said she hadn't done anything wrong. Now that number has slipped to 63 percent.
And even some longtime Clinton allies have made their concerns public.
"The campaign did not do a good job," former Pennsylvania Governor Ed Rendell said earlier this week on MSNBC. "The joke that the secretary made was tone deaf. I mean, why they thought this was a time to joke about this is beyond me."
The New York Times reached out to 75 top Democrats including Rendell for a story published Thursday and found "widespread bewilderment that Mrs. Clinton has allowed a lingering cloud to settle over her candidacy" by not tackling the email issue more honestly and aggressively back in March. The change in tone, the Times said, was to some Democrats "too little and too late to quell questions."