Iran Is Huge Right Now in North Dakota
The state's TVs are swamped with ads for and against a nuclear deal.
By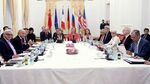 The day after the U.S. and other world powers announced an agreement to curtail Iran's ability to build a nuclear weapon, a check for $19,618 was cut to KFYR, the NBC affiliate in Bismarck, N.D. The money came from a nonprofit called Citizens for a Nuclear Free Iran, which opposes the deal. It gave the station instructions to begin running ads against the agreement "until further notice," according to records filed with the Federal Communications Commission. The first one aired during KFYR's broadcast of the Today show on July 17, only three days after the Iran accord was announced. 
The ads were part of a campaign to sway Democratic Senator Heidi Heitkamp, a swing state centrist, to join a handful of Democrats who haven't said whether they'll back the agreement. If North Dakota, the country's 48th-biggest state by population, were a city, it would sit behind Baltimore, Denver, and Philadelphia for the volume of Iran-related ads that have run this year and ahead of New York City. More than 960 spots ran on broadcast TV in Fargo and Bismarck through Aug. 24, according to CMAG. "I don't know that I've ever seen a bigger ad campaign aimed at a specific issue apart from an election in North Dakota," says Representative Kevin Cramer, a Republican who lives in Bismarck and opposes the Iran deal. "To see this level of advertising is unusual, for sure, and certainly indicative of the seriousness of the issue and the importance of a single Senate vote."

Nationally, 14 groups have spent an estimated $14 million to run about 24,600 TV spots arguing for and against the Iran agreement in 55 local broadcast markets and national cable, ­according to data compiled by Kantar Media's CMAG, which tracks political advertising. The largest buyer has been Citizens for a Nuclear Free Iran, which was created to oppose the Iran deal by the American Israel Public Affairs Committee, known as AIPAC. It's spent about $9 million buying more than 15,500 TV ads in 34 local markets and on national cable. It plans to spend as much as $20 million advertising against the Iran agreement by the time Congress votes in September—far more than the $1.7 million AIPAC has spent this year lobbying Congress, its main activity. "There are still a number of undecided senators and members of Congress," says Patrick Dorton, a spokesman for Citizens for a Nuclear Free Iran. "Our goal is to educate the public and encourage the public to weigh in with their elected representatives."
Montana saw a spike in Iran-related advertising before Democratic Senator Jon Tester announced Aug. 13 that he'd vote for the deal. More than 1,000 TV spots ran in Billings, Butte, Great Falls, and Missoula through Aug. 24, according to CMAG. Most were paid for by a group called Veterans Against the Deal, which now can shift the focus of its $1 million ad campaign more toward North Dakota. The nonprofit, created in July, has not disclosed its donors. One of its ads features Robert Bartlett, a retired U.S. staff sergeant who was wounded in Iraq in 2005, imploring viewers to tell their representatives to vote no. "Call your senator, tell 'em no deal for Iran. If you don't call, who will?" he asks, as a picture of North Dakota's Heitkamp appears on-screen.
"This is a small state where a couple hundred phone calls is a big deal. If 500, or 600, or 1,000 people call any one of our congressional delegation—that gets their attention," says Mark Jendrysik, a political science ­professor at the University of North Dakota. "It can be a good investment for issue-oriented groups, because it's less costly than, say, doing the same thing in California."
Not all the ads playing on North Dakota's airwaves are against the deal. J Street, a liberal nonprofit that supports the Iran agreement, began running ads in Fargo on Aug. 12, according to CMAG. The group plans to send Uzi Eilam, former director general of the Israeli Atomic Energy Commission, to speak in Fargo on the merits of the accord, says Jessica Rosenblum, a spokeswoman. Heitkamp, she says, "is the top target for us in North Dakota."
The ad storm catches Heitkamp as she's laid up recovering from hip-replacement surgery. She hasn't said publicly on how she plans to vote. According to a statement from her staff, she's "still reviewing the agreement and is continuing to speak with national security leaders, nonproliferation experts, and the administration to ask questions and fully understand the deal before making a decision."
—Ken Goldstein contributed to this article.