pursuits
Ford Said to Weigh Return of Bronco, Ranger Output to U.S.
Keith Naughton and David Welch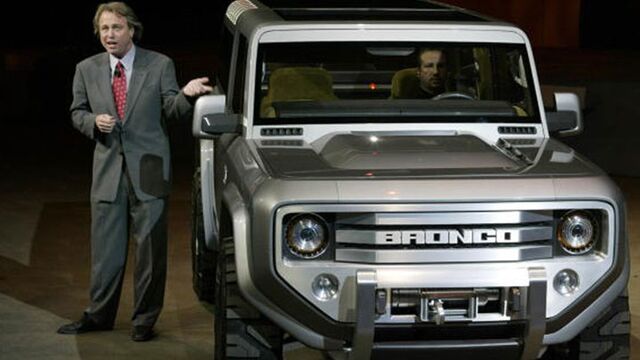 Ford Motor Co. is considering a revival of the Bronco sport utility vehicle and Ranger small pickup in the U.S., where truck demand is booming, said a person familiar with company's plans.
The two models would be built at a Wayne, Michigan, factory that now makes small cars, said the person, who asked not to be identified discussing product plans. The move would help Ford preserve some U.S. union jobs amid contract talks. The company may assemble the Focus and C-Max in Mexico, a person familiar with the matter had said.
The return of the Ranger and Bronco, which drew unwelcome renown as O.J. Simpson's getaway car two decades ago, gives Ford key models to compete with offerings by Toyota Motor Corp. and General Motors Co. The Bronco would also bring back an iconic name that has struck a chord with young buyers despite being out of production for almost 20 years.
"It's a good move," John Wolkonowicz, a Boston-based independent analyst, said of reviving the SUV. "Gen Y has discovered the original Bronco. Ford has seen what the Mustang can do for them, and they are bringing back their iconic names."
The Bronco debuted in 1966 as a rugged competitor to the Jeep CJ, now known as the Wrangler. It has become popular with millennials in southern California, said Wolkonowicz, a former product planner for Ford.
Mid-Sized SUV
The new Bronco will be a mid-sized SUV, like the Explorer, the person said. It will be built on a pickup frame, making it tougher than the Explorer, according to the person.
"The only way this makes sense is if it is more rugged and likely targeted at Jeep," said Jeff Schuster, an analyst at consultant LMC Automotive in Southfield, Michigan.
Ford made its last Bronco in 1996 and ended Ranger production in 2011.
The Ranger may also find new buyers for the Dearborn, Michigan-based company, Wolkonowicz said. GM and Ford both killed off their smaller pickups in the past decade as gasoline prices hurt truck sales. Late last year, GM brought back the Chevrolet Colorado and GMC Canyon as mid-sized pickups. The automaker sold more than 66,000 of the two models this year through July, while also increasing deliveries of its Chevy Silverado and GMC Sierra large pickups.
Ford "never should have gotten rid of Ranger in the first place," Wolkonowicz said. "GM proved there is a buyer for them."
Mid-sized pickups such as the Toyota Tacoma have been big business in the U.S. for a long time. Toyota sold about 155,000 Tacomas in 2014, while Nissan Motor Co. sold 74,000 of the Frontier. This year through July, deliveries totaled about 106,000 for the Tacoma and almost 39,000 for the Frontier.
Union Jobs
For Ford, bringing back the Bronco and Ranger would also secure jobs for the United Auto Workers union, which is in talks for a new contract to replace one that expires next month.
"We will move production of the next-generation Ford Focus and C-Max, which currently are built at Michigan Assembly Plant, beginning in 2018," Kristina Adamski, a spokeswoman, said in an e-mailed statement. "We actively are pursuing future vehicle alternatives to produce at Michigan Assembly and will discuss this issue with UAW leadership as part of the negotiations."
She declined to comment on future products for the factory. Brian Rothenberg, a spokesman for the Detroit-based UAW, declined to comment on the negotiations.
The Detroit News reported earlier on the Ranger plans.
(Adds analyst's comments starting in fourth paragraph.)
Before it's here, it's on the Bloomberg Terminal.
LEARN MORE