A Look Inside Donald Trump's Campaign Headquarters
Take an exclusive, behind-the-scenes peek at the billionaire's campaign nerve center.
By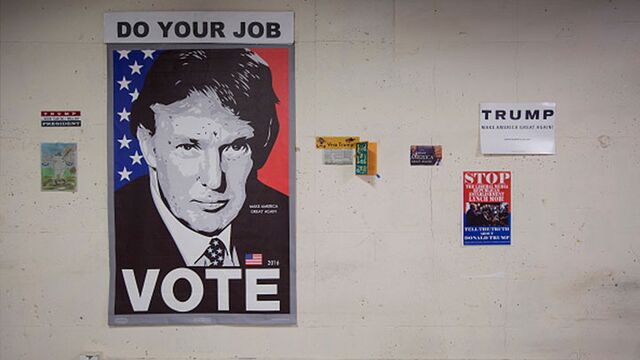 Behind a velvet rope and a set of double doors on the fifth floor of Trump Tower, glossy marble gives way to a cavernous, raw, unfinished space of drywall and exposed ductwork. This is Donald Trump's campaign headquarters. 
Here, in a space that used to house parts of The Apprentice set, staffers and volunteers, many of them first timers, will cheerfully explain how it is they came to work for Trump. John McEntee, for example, was a production assistant at Fox News when Trump announced he was running for president.
"I bought in to the message," McEntee said. "I was sick of the career politicians."

McEntee began flooding the general campaign e-mail inbox with copies of his résumé, was brought on as a volunteer, and ultimately landed a paid gig as trip director for the 2016 Republican presidential front-runner. 

McEntee's current work space is a windowless shell of a room, with only drywall and no door. The whole office is a work in progress, but already starting to fill up with Trump memorabilia and gifts, mostly sent in by fans. There are plaques, leather belts, a "Don't Tread on Trump" flag. The refrain "do your job" pops up repeatedly throughout the space—on a poster on the wall and on a nameplate on Campaign manager Corey Lewandowski's desk. It's one of two important mottos, he says.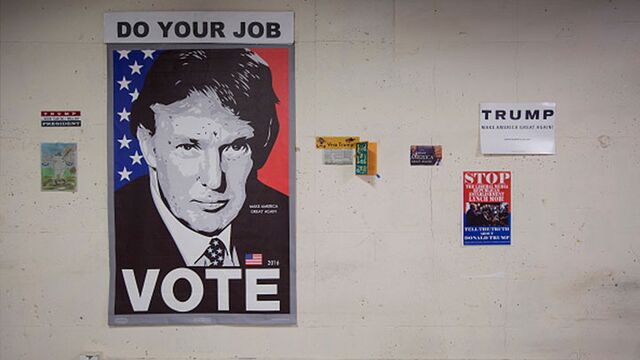 "You don't need to do someone else's job," Lewandowski said. "Just do your job. And that's truly the philosophy that everyone in this campaign believes. So if your job is to open the mail, we want you to do your job. If your job is to be the state director of a state, do that job. If everybody does their job, we can be successful."
The campaign workers' other slogan? It's borrowed from a beloved Democratic president, albeit a fictional one from the NBC drama The West Wing: "Let Trump be Trump." It's written across the top of Lewandowski's white board. 

"You have have to let a candidate be themselves," Lewandowski said. "And if you've looked at past presidential campaigns, you've seen candidates from both parties who have been over-managed or over-consulted and it reflects poorly on them."
Though the office is still coming together, Trump is already being Trump all over it. Video of Bloomberg Politics's exclusive tour airs tonight at 5 PM ET on "With All Due Respect," along with an interview with Donald Trump himself.