Jeb Bush Brings Asian Immigrants Into 'Anchor Baby' Debate
The former Florida governor was taking aim at Donald Trump, but ended up firing at Asian immigrants, too.
By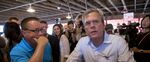 Jeb Bush entered the Republican presidential race by portraying himself as the voice of reason on immigration policy, an issue that has hurt the party among Hispanic and Asian voters. He aimed to amplify that message on Monday when he traveled to a U.S. border town in Texas to take aim at Donald Trump's immigration plan.
Instead, after repeated questions from reporters in Spanish and English about his use of the term "anchor babies," Bush said it wasn't derogatory because of his own Mexican-American family and then pointed to the "Asian people" who, he said, are more likely to exploit a provision in the U.S. Constitution that gives citizenship to those born in the country.
"This is ludicrous for the Clinton campaign and others to suggest that somehow I'm using a derogatory term," Bush said at a news conference in McAllen, Texas. "What I was talking about was the specific case of fraud being committed where there's organized efforts—and frankly it's more related to Asian people—coming into our country, having children in that organized effort, taking advantage of a noble concept, which is birthright citizenship."
Michael Kwan, president of OCA–Asian Pacific American Advocates, said Bush was unfairly "castigating" and entire group of people. The Washington-based group promotes economic and social well-being for Asian Pacific Americans through more than 100 chapters across the country. 
"Our immigrant communities have consistently been painted as an invasion force and the use of the term 'anchor baby' is a clear example of this," Kwan said in a statement to Bloomberg. "Using Asian Americans to deflect attention from his use of an offensive and derogatory classification may salvage a few political points now, but Jeb Bush and other political candidates who embrace such demeaning labels should understand that the majority of Asian Americans will not support you with either our votes or our dollars when you espouse rhetoric which dehumanizes and degrades us." 
Inhe Choi, executive director of the Korean American Resource and Cultural Center, said that Bush was emulating Trump, instead of showing leadership on the issue. Choi said her Chicago-based group promotes comprehensive immigration reform and is able to mobilize more than 100,000 voters.
"He's making a sweeping statement that is possibly taking the country in a dangerous direction," Choi said. "These front-runners of the Republican Party seem to want to scapegoat and shame to get any kind of point across."
Bush's comment came on the same day that Trump and Scott Walker, the Wisconsin governor also seeking the Republican presidential nomination, blamed China for the dip in U.S. stock market.
Trump said in a post on Twitter that the "crashing" market was "all caused by poor planning and allowing China and Asia to dictate the agenda." Walker released a statement saying that President Barack Obama should show "some backbone" and cancel Chinese President Xi Jinping's state visit to the U.S. next month because "Americans are struggling to cope with the fall in today's markets driven in part by China's slowing economy."
On Fox News last week, Bush's fellow Floridian and Republican presidential candidate Marco Rubio also identified Chinese women coming to the U.S. to have babies.
"That's a legitimate issue," Rubio said. "People coming from China—wealthy people to have children that have U.S. citizenship. They are hedging their bets if something goes wrong in China they can bring them back here."
Rubio said he was "exploring" ways to prevent that, but wasn't sure how because of the 14th Amendment to the Constitution.
There are about 300,000 children born each year in the U.S. to undocumented immigrants, Jeffrey Passel, a senior demographer with the Pew Research Center, told PolitiFact, which pointed out the difficulty in trying to determine how many women came to the U.S. only to give birth.
Bloomberg Businessweek reported in May on the increasing number of agencies bringing pregnant Chinese women to the country. The U.S. Department of Homeland Security and the IRS have been investigating the growing business of "birth tourism," which operates in a legal gray area, for at least a year. 
Bush used the term "anchor babies" during a radio interview last week, saying the nation needed to better enforce existing immigration laws. Hillary Clinton, the front-runner for the Democratic presidential nomination, tweeted that "they're just called babies." 
Trump had used the term a day earlier on Fox News, and delighted when Bush repeated it. Trump pointed out that a 2013 memo from the Hispanic Leadership Network, which includes Bush as a member, urged conservatives not to use the term.
Bush also never used the term in his 2013 book, Immigration Wars, which called on the party to learn lessons from the 2012 presidential race, in which Republican nominee Mitt Romney won support from just 27 percent of Hispanic voters and 26 from Asian-Americans. 
"Most immigrants, including Hispanics and Asians, are entrepreneurial, family-oriented, deeply religious, and place a tremendous emphasis on education opportunities," Bush wrote in the book, along with his co-author, Clint Bolick. "In other words, they fit the classic profile of Republicans. And yet, Republicans are losing immigrant voters."
Bush traveled to McAllen in part to ridicule Trump's immigration plan, which mostly revolves around building a wall along the border without a clear way to pay for it. Bush told reporters the U.S. needs "a much deeper strategy than just building a fence."
"Mr. Trump's plans are not grounded in conservative principles," Bush said, adding that the cost of Trump's plan would be in the "hundreds of billions." "It's not realistic. It won't be implemented."
But that message might have been diluted as Bush sought to swat away questions about anchor babies by blaming "political correctness." In Spanish, Bush told reporters that "I'm married to a Mexican-American, my children are Hispanic" and that "we have to enforce the laws, all of them."
In English, Bush said immigrants who illegally enter the U.S. to have a baby were committing "fraud." He said that was a "specific, targeted kind of a case" and added that "we need to enforce the law."
Repeatedly questioned over his use of the term "anchor babies," however, Bush pushed back. 
"You know, this is so ridiculous," Bush said. "Give me the name you want me to use and I'll use it."
—Angela Greiling Keane contributed to this report.