Biden Visits Presidential Battleground But Delivers No Speeches
The vice president makes low-key trip to Cleveland for the funeral of an African American political trailblazer.
By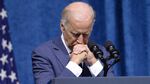 While the political rumor mill was working overtime with speculation about his political future, Vice President Joe Biden quietly flew to Cleveland today to attend the funeral of former Representative Louis Stokes, the first African American to represent Ohio in Congress. The brother of former Cleveland Mayor Carl Stokes, the first black executive of a major city, he died Aug. 18 at age 90.
Biden, who is mulling whether to make a late entrance into the 2016 presidential race, didn't speak at Olivet Institutional Baptist Church, but many in the congregation stood and applauded when he arrived and paid his respects to Stokes and his family.
The vice president sat with Ohio Senators Sherrod Brown, a Democrat, and Rob Portman, a Republican, as well as members of the Congressional Black Caucus that Stokes helped found. Biden shook hands with family members and clergy as they left the church.
Related: Draft Biden Committee On Track to Be in All 50 States 
Both Biden and Stokes were creatures of Capitol Hill. Biden served as Delaware's senator for 36 years before becoming vice president; Stokes, who served 30 years in the House before retiring in 1999. They  got to know one another and developed a warm relationship during their overlapping decades in Congress, especially through work on intelligence issues. Stokes was a member of the House Permanent Select Committee on Intelligence during the 1980s.
While many people approached after the service in this presidential battleground state weren't ready to discuss politics, Cleveland City Council member Jeffrey Johnson said he didn't think a late entrance into the presidential race by Biden would derail Democratic presidential front-runner Hillary Clinton.
 "I have a lot of respect for the vice president,'" said Johnson. "But I've seen nothing that would have me walk away from Hillary Clinton.''
 Rev. Larry Macon Sr., senior pastor of the Mt. Zion Church of Oakwood Village in suburban Cleveland, said he was glad to see Biden make the effort to attend the funeral.
 Macon said  he would like to see Biden run but added it's not a negative reflection on Clinton.
 "The community loves both of them, and eventually there will be one,'' he said. "Right now, we're in the conversation stage.''
Clinton is scheduled to travel to Cleveland on Thursday for what her campaign is calling a "grassroots organizing meeting as part of her efforts to work for every vote and take nothing for granted.'"
She won the Ohio primary during the 2008 contest for the Democratic presidential nomination that Barack Obama eventually captured. At this week's event, Clinton will ask Ohio supporters to complete a card committing to vote for her in the state's Democratic contest next year.
 (Contributing: Margaret Talev)