Biden Visits Presidential Battleground But Delivers No Speeches
The vice president makes low-key trip to Cleveland for the funeral of an African American political trailblazer.
By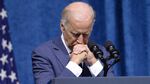 While the political rumor mill was working overtime with speculation about his political future, Vice President Joe Biden quietly flew to Cleveland today to attend the funeral of former Representative Louis Stokes, the first African American to represent Ohio in Congress. The brother of former Cleveland Mayor Carl Stokes, the first black executive of a major city, he died Aug. 18 at age 90.