Hillary Clinton E-Mail Alibi Is Strikingly Inconvenient
The former secretary of state has repeatedly argued that she used a private server to conduct government business out of "convenience."
By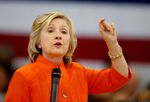 For more than five months, Hillary Clinton has been saying that she used a private server and e-mail address as secretary of state purely as a matter of convenience. And her critics, of course, keep expressing skepticism about whether that was her true motivation: Surely, she was instead hiding something—or at best, just keeping her Spidey skills up.