Dollar Drops to 7-Month Low Versus Euro Amid Global Stock Plunge
Lananh Nguyen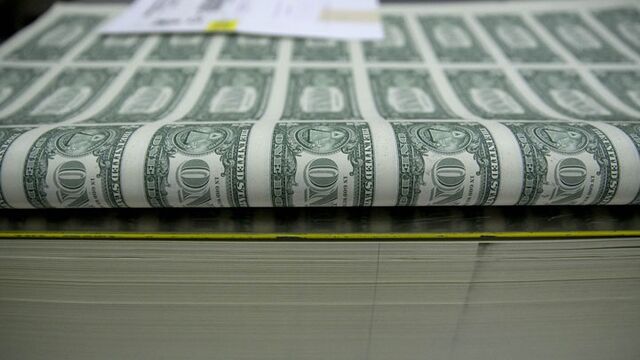 The dollar dropped to a seven-month low against the euro as concern the global economy is losing momentum led traders to cut bets the Federal Reserve will raise interest rates this year.
The dollar pared losses as U.S. stocks trimmed declines. A drop in commodity prices deepened a rout in emerging-market currencies that began after China's shock devaluation of the yuan on Aug. 11.
"We still think there's more pain to be had -- we're not out of the woods just yet," Bipan Rai, director of foreign-exchange strategy at Canadian Imperial Bank of Commerce's CIBC World Markets unit, said in an e-mail.
The dollar fell 2.1 percent to $1.1619 per euro at 5 p.m. in New York after falling as low as $1.1714, the weakest since Jan. 15. It plunged 3 percent to 118.41 yen, the weakest since Feb. 5, after touching a seven-month low of 116.18.
Intercontinental Exchange Inc.'s U.S. Dollar Index, which serves as the benchmark for various futures and options instruments, was down 1.8 percent after falling as much as 2.5 percent, the most since March 2009.
"It really is a jumpy, panicky market," Matt Weller, an analyst at Gain Capital Holdings Inc.'s Forex.com unit in Grand Rapids, Michigan, said by phone. "It's emotionally driven selling across the board."
Plunging Odds
Federal Reserve Bank of Atlanta President Dennis Lockhart said he continues to expect the first interest-rate increase in nearly a decade this year, while cautioning that a stronger dollar, a weaker Chinese yuan and falling oil prices complicate the outlook.
Traders are pricing in a 22 percent probability that the Fed raises rates at the September meeting, down from about 48 percent on Aug 18. The calculation is based on the assumption that the effective fed funds rate will average 0.375 percent after the first increase. The probability of a December increase fell to about 44 percent from 73 percent a week ago.
"Markets are very nervous about the growth outlook for China and the possible impacts on the dollar," Georgette Boele, a currency strategist at ABN Amro Bank NV, said by phone from Amsterdam.
China's Shanghai Stock Exchange Composite Index plunged 8.5 percent Monday as currencies of resource-producing nations fell amid a global selloff. New Zealand's dollar fell the most in 30 years and the Australian dollar slumped the most in five years. Canada's currency touched an 11-year low, while South Africa's rand tumbled to a record.
'Tug-of-War'
"The U.S. dollar will be in the middle of a tug-of-war," CIBC's Rai said. "On one hand, investors are less enthusiastic about a September hike, but on the other hand it offers a safe haven from emerging markets that are bleeding."
The euro, yen and Swiss franc were the best performers among 10 developed-nation peers in the past week, according to Bloomberg Correlation-Weighted Currency Indexes.
These three are currently optimal funding currencies because of their nations' low interest rates, according to Esther Reichelt, a currency strategist at Commerzbank AG in Frankfurt.
"The characteristic of a funding currency means that you benefit from safe-haven flows in high-risk times, when your money is flowing back to where it was funded from," she said.