Skechers' Lesson From a Fad That Flopped
It learns how to avoid getting clobbered by boom-and-bust styles
By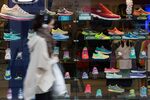 Five years ago, Skechers' Shape-ups shoes were the runaway leaders in "toning," a new category of sneaker that promised to help wearers slim down and strengthen their butt muscles. Toning-shoe sales grew more than twentyfold in only three years, from $50 million in 2008 to a peak of $1.1 billion in 2010, according to researcher SportsOneSource. Skechers owned about 60 percent of the market, and roughly a third of its $2 billion in revenue that year came from toning.
In February 2011 the company ran an ad during the Super Bowl showing Kim Kardashian bidding farewell to her personal trainer in favor of a pair of Shape-ups. By then, however, the shoes were quickly moving from fad to fiasco. Customers were increasingly buying Shape-ups at a discount, and millions of pairs sat unsold because Skechers had overordered. "There's just too much inventory," Chief Operating Officer David Weinberg told investors on an earnings call 10 days after the Super Bowl ad ran. It didn't help that the Federal Trade Commission soon began investigating Skechers and its rivals for false advertising about such shoes' health benefits. In May 2012 the company denied wrongdoing but agreed to pay the FTC $40 million to settle charges that it had deceived customers, and it was barred from making unsupported claims about weight loss and strengthening.
Now Skechers is flying high again. Its second-quarter sales jumped 36 percent this year, to $800.5 million, and its stock market valuation soared from less than $600 million at the end of 2011—the low point of the Shape-ups flub—to more than $8 billion today. This time no single trend is responsible—or could single-handedly crater the company's fortunes. "In the past we've had some categories that grew significantly better than others. It moved the company around and made it a lot more volatile than we would have liked," Weinberg says, "but now we've got to the point where we can be successful in multiple categories."
It turns out that Shape-ups helped Skechers, if nobody else, get lean. The company has shortened the lead times on its factory orders and now plans for obsolescence by keeping new products in the pipeline to replace the old. "Shape-ups was the best thing that ever happened to them," says Sam Poser, an analyst at Sterne Agee CRT. "They've learned how to control it better." This self-control even includes asking retailers to cut back on their orders, according to Matt Powell, who follows the footwear industry for NPD Group: "There is a great deal of discipline in terms of how much product they're selling into the market."

Weinberg says that after Shape-ups, the company learned to avoid spikes in inventory through weekly monitoring of retail sales. "We just watch more; we have more controls," he says. Skechers also now has the clout with manufacturers to add or reduce capacity more quickly, he says. Shape-ups, in his eyes, were a black swan: a brand-new category for an industry that usually deals in variations on old themes. Nobody knew how big it would get. "While we did learn from it," Weinberg says, "we are still a very aggressive company."
Skechers is now the No. 1 brand for walking shoes in America and is seeing brisk sales for its kids, comfort, and work footwear. The brand tops Adidas and Under Armour in athletic shoes in the U.S., according to NPD Group, and sits a distant second to Nike.
Skechers was born from the wreckage of L.A. Gear, the sneaker brand that rose with the aerobics shoes trend, only to collapse in the early 1990s. L.A. Gear founder Robert Greenberg started Skechers in 1992 and remains chief executive officer. The Shape-ups misstep stoked fears that Skechers was a feast-or-famine brand as well. "You have some investors that say leopards don't change their spots," Poser says.
But this time the Skechers brand is thriving by offering dozens of mass-market versions of popular styles. In 2010, for example, Skechers introduced a line of alpargata-style canvas flats called Bobs and promised to donate a pair of shoes to needy children for every pair it sold. The name, the style, and the one-for-one giving borrowed directly from Toms, a startup founded in 2006 that has given away more than 35 million pairs of shoes. Weinberg says Skechers is shedding its copycat reputation. "We've done that in the past," he says, "but we've become significantly more innovative over the last few years." Whatever the origin, Skechers knows how to sell. "They're the best at commercializing good ideas in the marketplace," Powell says. "It's not essential that you be first with an idea. You just need to be best."
The bottom line: Skechers' stock market valuation has risen from $600 million at the end of 2011 to about $8 billion today.
Before it's here, it's on the Bloomberg Terminal.
LEARN MORE