Much of the Republican 2016 Field Has Actually Moved to the Right on Abortion
Three years ago this week, Todd Akin made his memorable remark about "legitimate rape." Have Republican politicians become better at speaking about women's bodies?
By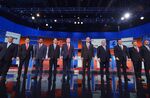 The pope went to Paraguay last month, and called the corruption there the "gangrene of a people." The small, religious country of swamp, scrubland, and savanna is not one that often makes its way into American discussions of policy. But on Sunday, former Arkansas Governor Mike Huckabee, a Republican candidate for president, expressed his support for Paraguay's restrictive abortion laws—even when it means that a child impregnated by rape is forced to give birth.