Republican Plans to Replace Obamacare Have a Problem: House Republicans
Many GOP presidential candidates have embraced the idea of funding high risk pools to cover patients with preexisting conditions.
By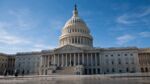 A dilemma facing Republican presidential candidates who want to repeal Obamacare is how to care for people with preexisting conditions. While polls show that the law isn't popular, Americans also don't want to return to an era where they can be denied coverage due to an illness.