Glencore Slumps to Record Low on China Slowdown
Jesse Riseborough and Javier Blas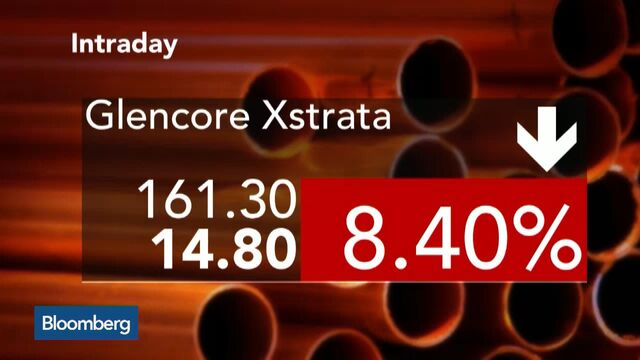 Glencore Plc slumped to a record low after its billionaire boss said the world's leading commodity trader was wrong-footed by the sharp slowdown in China.
The shares slid 9.7 percent to close at 158.95 pence in London trading, wiping $3.5 billion off its market value. The company earlier reported a 56 percent drop in first-half profit and cut the earnings forecast for its trading division.
"China in the first half was a lot weaker than anyone had expected," Chief Executive Officer Ivan Glasenberg said. "Demand is getting very tricky to call right now with what we see going on in China."
Copper and oil prices at a six-year low are reducing profits for commodity companies around the world. In previous years, Glencore's trading business, unique for a large mining company, cushioned the impact of lower commodity prices. So far this year, trading was weak due to a "collapse" in the premiums that traders charge clients for the delivery of metals such as aluminum and nickel.
"We've got a worsening situation right now," John Meyer, a mining analyst at SP Angel Corporate Finance LLP, said in an interview with Bloomberg Television. "Glencore I think should've performed a little bit better through the first half. This is going to disappoint many. The metals trading didn't do so well. China really slowed down, it totally hit a wall."
Worst Performer
Today's share price plunge extended its slump this year to 47 percent, making Glencore the worst performer in the U.K.'s benchmark FTSE 100 Index for the period.
"We've just got to wait for the market to digest it and just settle down," Chief Financial Officer Steve Kalmin said on a conference call from London. Investors may be discounting the stock after Glencore lowered its profit outlook for its trading business and issued a new debt forecast for the end of next year, he said.
Adjusted net income declined to $882 million from $2.01 billion a year ago, the Baar, Switzerland-based company said on Wednesday. That beat the $711 million average of seven analyst estimates compiled by Bloomberg. It will pay an interim dividend of 6 cents a share.
After writing down the value of assets, Glencore reported a net loss of $676 million compared with a profit of $1.72 billion a year earlier.
Trading Profits
Adjusted earnings before interest and tax from its trading business, which includes the sale of commodities from crude to cotton, fell to $1.07 billion. That compares with the $1.28 billion average estimate of nine analysts surveyed by Bloomberg News.
The company cut its full-year Ebit forecast for the trading business to a range of $2.5 billion to $2.6 billion from previous guidance of $2.7 billion to $3.7 billion.
Glencore is defending its investment-grade credit rating and dividends by lowering expenditure and selling some assets.
Kalmin said the aim is to maintain dividend payments at the current level in 2016 while keeping a BBB credit rating.
The firm last week said it's trimming this year's spending plan by as much as $800 million to no more than $6 billion and selling $290 million of mines. In addition, on Wednesday it said its capital investment next year will be capped at $5 billion, down from an earlier forecast of $6.6 billion.
"The measures today further highlight the company moving in the right direction with levers to pull to mitigate further declines in price if required," Barclays Plc analysts Amos Fletcher and David Butler wrote in a note to clients.
The company cut its net debt by $982 million in the first half to $29.6 billion, more than analysts expected, by limiting the working capital available to the trading division.
Peter Grauer, the chairman of Bloomberg LP, parent of Bloomberg News, is a senior independent non-executive director at Glencore.