Airlines Plan More Cuba Flights as Obama Weighs Easing Rules
Toluse Olorunnipa and Mary Schlangenstein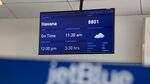 U.S. airlines are gearing up for regular flights to Cuba as the Obama administration pursues a deal to allow commercial travel between the two countries.
Such an agreement, which a White House official said Tuesday was under consideration, would expand travel options between the U.S. and Cuba without requiring Congress to lift five-decade-old travel restrictions. Airlines already have benefited this year from increased travel by Americans to Cuba, where the U.S. marked the reopening of its embassy in a flag-raising ceremony last week.
American Airlines said Tuesday that it would begin offering flights directly from Los Angeles to Havana, in partnership with Cuba Travel Services, a charter operator. If the U.S. and Cuba enter into a new civil aviation agreement, American could operate regular service, without using a charter company.
"We are looking forward to the governments getting a bilateral worked out and looking forward to opening up scheduled Cuba service as soon as we possibly can," said Howard Kass, vice president of regulatory affairs at American Airlines Group Inc.
Eased travel rules could lead to a 10-fold increase in U.S. visitors to the island, boosting revenue for airlines, according to a Bloomberg Intelligence analysis.
Restoring Relations
President Barack Obama has called for increased travel and cultural exchanges between the two countries after announcing a plan to restore diplomatic relations in December. While Congress hasn't acted to lift legislation limiting travel and trade, the administration has taken steps on its own to break down diplomatic barriers.
Travel application requirements have been reduced, and Carnival Corp. has been authorized to operate ferry service to Cuba for the first time in more than 50 years. U.S. travel to Cuba must be authorized under one of 12 approved categories, which include family visits and cultural exchange programs.
Discussions currently under way could further ease restrictions by letting travelers directly book flights to Cuba on travel websites, according to a White House official. While travel to Cuba for tourism remains banned, a civil aviation agreement may allow individuals to visit for cultural exchange purposes, instead of joining a tour group.
Cultural Exchanges
The agreement would make booking a flight easier, while separate regulatory changes may authorize solo travel to the country for cultural exchanges, said the White House official, who requested anonymity to discuss internal deliberations. Separate discussions are under way on both issues, the official said, and there's no specific deadline to finish the civil aviation agreement.
The deal would would require concurrence by the Cuban government and new regulations. The Wall Street Journal reported earlier on Tuesday that a civil aviation agreement could be completed by the end of the year.
A bilateral agreement from 1953 could be updated to allow for the new travel rules, bypassing Congress.
Charter flights between Miami and Havana already resemble commercial travel, said Peter Quinter, head of international law at the legal firm GrayRobinson in Miami.
"I'm flying on an American Airlines plane, all the logos are American Airlines and all the staff are from American," said Quinter, who led a delegation of U.S. lawyers to Cuba earlier this year. "I'd rather fly on a regular commercial, regularly scheduled airline."
Quinter, a former U.S. Customs Service attorney responsible for enforcing the trade embargo, said Obama "has the authority" to ease travel restrictions on his own and wouldn't face much opposition from Congress.
A Million Canadians
The airline industry and tourism companies are lobbying the White House for a new travel agreement, according to George Ferguson, a senior aerospace and airline analyst for Bloomberg Intelligence.
About 1 million Canadians visited the island in 2013, compared with 92,000 U.S. citizens. With direct flights and loosened travel restrictions, "U.S. visitors will likely surpass Canada's, given closer proximity, stronger links to Cuba and a larger population," Ferguson wrote in a Bloomberg Intelligence report co-authored by analyst Caitlin Webber in January.
'Sought-After' Destination
Secretary of State John Kerry said last week during the flag-raising ceremony at the U.S. embassy in Havana that travel by Americans to Cuba has increased 35 percent since January.
"I can tell you this is going to be one of the great sought-after travel spots of the world," Kerry told reporters in Havana. "And in my judgment, the sooner we can get to our normalization the better."
American Airlines and JetBlue Airways Corp. are among the carriers preparing for commercial travel to Cuba.
"We are interested in providing scheduled service from multiple U.S. cities as soon as legally permitted," Doug McGraw, a JetBlue spokesman, said in an e-mail. "We have built experience operating in Cuba with our charter program to help us be ready to go with scheduled service once legally permitted."
American Airlines is the largest provider of charter flights from the U.S. to Cuba, with 1,200 a year, or about 22 a week, up 9 percent from a year ago. American has provided charter flights to Cuba since 1991.