politics
Scott Walker Says His Immigration Plan Is 'Very Similar' To Trump's
Is the Republican primary becoming a contest over who will be toughest on immigration?
By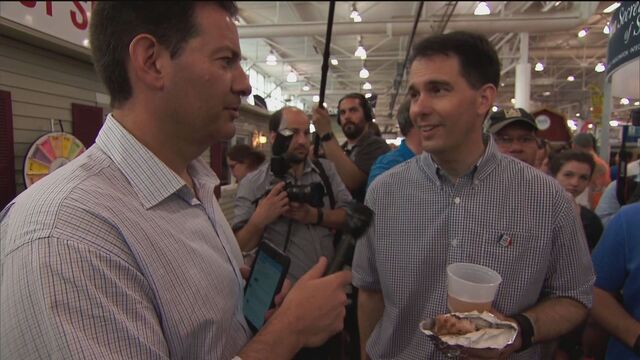 Republican presidential candidate Scott Walker said Monday his immigration plan is "very similar" to the policy blueprint released Sunday by Donald Trump which amounts to a comprehensive attack on legal and illegal immigration.
"I haven't looked at all the details of his but the things I've heard are very similar to the things I've mentioned," the Wisconsin governor said on Fox & Friends.
Walker's remarks came as new polling data show the one-time Iowa front-runner lagging the billionaire political rookie, and suggest that Trump has put his rivals in a box by speaking loudly and aggressively on immigration, for which he's being rewarded by the party base. As another Republican presidential candidate, former Senator Rick Santorum, prepared to unveil his immigration proposals later this week, it raises the question of whether Trump's ascent risks turning the Republican primary into a competition over who can be toughest on immigrants.
While that might be a welcome development for some Republican primary voters, it could prove perilous for the party in the long run with one of the country's fastest-growing demographics. In the 2012 election, Barack Obama won 71 percent of the Latino vote, a score that was key to his reelection and was widely attributed to the Republican Party's hostile rhetoric on immigration.
On Fox, Walker seemed eager to associate himself with Trump's plan. He said he wants to "secure the border" and "enforce the law," as well as build a wall across the U.S.-Mexico border and crack down on sanctuary cities. "No amnesty," he said. "I don't believe in amnesty, which I think is similar to what [Trump] said."
Walker also pointed to earlier remarks he made about immigration on Fox News Sunday in March, when he called for beefing up border security and said he no longer supports a path to citizenship for undocumented immigrants, which he backed in 2013.
Like Trump, whose plan also proposes strict limits to legal immigration, Walker has called for examining the legal immigration system in order to protect American jobs.
The difference between himself and Trump, Walker insisted, is that he'll do something about it.
"I'm the guy who's shown you can do it. I fought, I won, I got results and I did it without compromising my conservative principles. I think in the end that's the kind of leadership people want," he said Monday. "They're upset and they're looking for someone who's gonna do something about it."
Santorum, the 2012 Republican runner-up who is lagging in the polls this time around, has also called for curtailing legal and illegal immigration. He is slated to roll out his immigration policies during a speech Thursday in Washington.
Before it's here, it's on the Bloomberg Terminal.
LEARN MORE