Scott Walker Being Trumped by The Donald in Crucial State of Iowa
The governor, who has enjoyed a consistent lead all year in Iowa, dropped to third in the most recent CNN poll.
By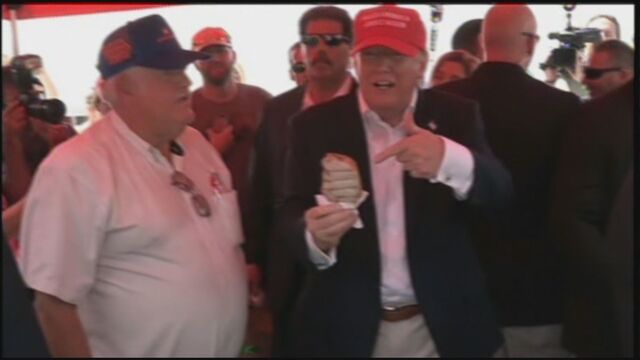 When Republican Scott Walker arrives Monday at Iowa's state fair, he'll land in an unfamiliar position: he won't be the front-runner in the state that holds the first presidential nominating contest.
Like most every other candidate in the historically crowded field, the Wisconsin governor's standing in state and national polls has been hurt by the summer surge of billionaire Donald Trump, the party's front-runner.
No state is more critical to Walker's future than Iowa, where media expectations about his candidacy have grown to the point that anything short of a win in the Feb. 1 caucuses is likely to be viewed as a serious momentum killer.
"I run into people who support him, but I think the polls reflect the fact that everyone is just struggling to get traction, outside of the three non-politicians," said John Bloom, Republican Party treasurer in Polk County, the state's largest.
Bloom, who is undecided in the race, was referring to Trump, retired neurosurgeon Ben Carson, and former Hewlett-Packard CEO Carly Fiorina. He's not ruling out the possibility of a Trump win in Iowa.
"If you had asked me a month ago, I would have said no," he said. "But I think there is more commitment there to something. I don't know if it's for Trump, or this rebellion against our leadership."
Also on Bloomberg Politics: Donald Trump Gives Anti-Immigration Republicans Their Dream Plan
Walker, who has enjoyed a consistent lead all year in Iowa, dropped to third in the most recent CNN poll. He was backed by just 9 percent of likely caucus participants, below Trump at 22 percent and Carson at 14 percent.
It's a dramatic fall for a guy who led in a Bloomberg Politics/Des Moines Register Iowa Poll with 17 percent as recently as late May. That was approaching the level of support—roughly 20 percent—that most party insiders agree could win the caucuses in a 17-candidate field.
Walker is the man with the most to lose from Trump's Iowa rise because he's counting on a win in the state to provide momentum in subsequent contests where Trump and former Florida Governor Jeb Bush are almost certain to be better financed.
"We are focused on the fundamentals of caucus organizing on the ground, not a week of snap polls," said David Polyansky, Walker's senior Iowa adviser. "Governor Walker will continue to share his record of success and his vision for America, and his team will continue to focus on building an operation that is capable of carrying him across the finish line next year."
For now, Walker has four paid staff members in the state, two consultants, and one campaign office, all numbers that will grow as the fall progresses. His campaign has 65 members on its Iowa leadership team, including more than one-third of the state's senate Republicans and numerous other current and former elected officials, business leaders and party activists.

Underscoring Iowa's importance, Walker spent three days in the state as part of his campaign announcement rollout in mid-July, triple that of any other he visited that week.
He's pledged to visit all of Iowa's 99 counties and has already been to 16, his campaign says. After Walker leaves the fair, he'll squeeze in two more events in the northern part of the state, before heading to Minnesota to deliver a speech on how he proposes to repeal and replace Obamacare.
Asked in mid-July whether he had any concerns about Iowa expectations being too high for him, Walker highlighted his high school track days.
"My coach used to say it's a lot easier to win if you're ahead," he said. "In the end, we know there's a lot of time, a lot can happen between now and then. We're just going to stay focused, day by day, week by week, getting our message out."
Walker added that he hopes to "at least to be first, second or third" in all four of the early states, which also include New Hampshire, South Carolina, and Nevada.
The two-term governor is the closest thing to a native Iowa son in this election cycle. He spent a portion of his childhood in northeast Iowa, the part of the state that's most familiar with him because it's nearest to Wisconsin and the two states share some media markets.
Walker hasn't just lost his standing in Iowa polls. After the first Republican presidential debate on Aug. 6, he's also lost traction in national polls.
A national Fox News poll released Sunday showed Walker has dropped to 6 percentage among likely Republican primary voters, down three points during the past two weeks and the lowest support he's received this year in that poll.
Stronger showings for Trump and Carson suggest there's a desire in the Republican electorate for an outsider. That's a hard niche for Walker to fill. While he's only been a governor since 2011, he's been a politician most of his adult life, serving first in the Wisconsin legislature and then as Milwaukee County executive.
Walker's top aides point to the fact that at this time four years ago then-Texas Governor Rick Perry was atop polls in Iowa, before finishing fifth in the 2012 Republican caucuses.
Walker's team, of course, isn't alone in building the sort of grassroots network that will be critical to turnout out voters on a cold winter night next year at more than 1,700 precincts.
Also on Bloomberg Politics: How Trump Is Winning Over Conservatives Without the Bona Fides
Chuck Laudner, Trump's top Iowa strategist and a former executive director of the Republican Party of Iowa, said his candidate is doing things like putting his name on a sprint car at a popular Iowa racetrack to try to appeal to new voters.
"We are going into events that are non-political in nature," he said. "We have to bring new people in."
That could be a bad thing for Walker. His model is built around a more traditional caucus turnout, not an expanded electorate that might draw more moderate Republicans and some independents.