Rubio Predicts U.S. Businesses Won't Have 'Major' Interests In Cuba By 2017
The Republican presidential candidate pledges to reverse the Obama administration's steps toward normalization.
By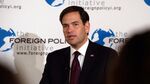 Republican presidential candidate Marco Rubio on Friday pledged to reverse the Obama administration's steps toward normalization of U.S.-Cuban relations and suggested American business interests wouldn't be an obstacle because he doesn't envision U.S. companies having "major" contracts and investments on the island nation by 2017.
Rubio, a son of immigrants who fled Cuba, spoke at the the Foreign Policy Initiative in New York City as Secretary of State John Kerry paid a visit to Havana to preside over the historic re-opening of the U.S. embassy.
"I actually don't think that is what's going to happen," the Florida senator said, predicting increased travel and "some minor investments, not major investments." The reason? He said the country lacks a real economy as the Castros and military "own everything in Cuba—all the hotels, the telecommunications, the rent-a-cars, the gas stations—every major industry in Cuba."
"When you're opening up to the Cuban economy," he said, "what you're opening up to is this holding company run by the military—in fact, run by Raul Castro's son-in-law. So what American companies are going to find when they go to Cuba is number one, a government that's going to say, 'Well, we'll let you flag a hotel under your name, but it belongs to us...' There is no property rights or contracts that can be enforced."
Rubio, who has pledged to shut down the embassy if elected, said President Barack Obama had "rewarded" the repressive Castro regime and slammed the guest list at Friday's ceremony.
Also on Bloomberg Politics: Kerry in Havana Praises Escape From a History That Lingers
"As a symbol of just how backward this policy shift has turned out to be, no Cuban dissidents have been invited to today's official flag-raising ceremony at the U.S. Embassy in Havana." Rubio said. "Cuba's dissidents have fought for decades for the very Democratic principles President Obama claims to be advancing through these concessions. Their exclusion from this event has ensured it will be little more than a propaganda rally for the Castro regime."
Rubio promised that, by contrast, he'd "invite Cuban dissidents, Iranian dissidents, Chinese dissidents, and freedom fighters from around the world to be honored guests at my inauguration."
The Castros' choice, he said: "Continue repressing your people and lose the diplomatic relations and benefits provided by President Obama, or carry out meaningful political and human rights reforms and receive increased U.S. trade, investment, and support."
Polls indicate Obama's move to restore diplomatic ties with Cuba after five decades of frosty standoff, backed by Democratic presidential front-runner Hillary Clinton, is popular with the American public. According to a recent AP-GfK poll, 71 percent say the U.S. should have diplomatic relations with Cuba. Twenty-five percent said it should not.