How a Failed Mountain Climb Spawned an Epic Documentary
Jimmy Chin's documentary Meru takes the motivations of climbers—and other obsessive professionals—over the top
By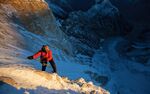 Making a living as a mountaineer is as iffy as it is dangerous. Aspiring pros typically spend years living out of a van, dumpster-diving with raccoons for food in campground parking lots, and climbing as often as they can. The best ones find a mentor, work summers as park guides, and pick up some sponsors, though they're often paid in free swag, not the kind of cash that passes for a real salary. At last, they go on expeditions to the world's major ranges, and if the mission is sufficiently dramatic or they're fortunate enough to survive a CNN-worthy catastrophe, they begin second careers as motivational speakers.
That path presents a comic paradox, and not only because it's funny to watch someone who sleeps in the dirt school suited executives on leadership. Rather, it's because while much of what mountaineers can speak to—forecasting, contingency planning, teamwork—is relevant to corporate audiences, climbers are often vague and self-deluded about what motivates them. "Because it's there" is George Mallory's famous explanation for attempting to summit Mt. Everest. Even that's preferable to the more common refrain, "If you have to ask, you'll never understand."
Jimmy Chin wanted to do better. An extreme skier from Jackson, Wyo., and two-time Everest summiteer, Chin has the career most alpinists dream of. Actually, he has three: as an athlete sponsored by North Face; as a photographer for National Geographic; and as a filmmaker. A few years ago, he shot on location in Nepal for the early stages of the big-budget Everest (out Sept. 18). Meanwhile, he worked on his own documentary, Meru, which lands in theaters this month. 
In 2008, Chin set out to capture an insanely difficult first ascent of the Shark's Fin, the central spire of Meru Peak, a 22,000-foot mountain at the headwaters of the Ganges River in the Indian (Garhwal) Himalayas. He planned to scale it with his mentor, Conrad Anker, and their mentee, Renan Ozturk, but they didn't make it. With only 300 feet to go, they turned around, uncertain they could summit so late in the day and still return to safety. Chin swore not to go back.
What was a huge letdown has, seven years later, yielded a riveting full-length feature—one that transcends the climbing niche to openly explore defeat, risk, and the limits of loyalty. Co-directed by Chin and his wife, Elizabeth Chai Vasarhelyi, it won the 2015 Sundance audience award. Mostly, it follows the three amigos as they go back for another try in 2011—"They say that the best alpinists are the ones with the worst memory," Chin says. As Meru unfolds, we cut from the mountains to studio interviews with each climber, their loved ones, and brief commentary from experts such as Into Thin Air author Jon Krakauer. It's he who deems the remote, Sherpa-free Shark's Fin "the anti-Everest." 
As Meru toggles between vertigo-inducing panoramas and claustrophobic tedium inside a tent, it's easy to forget how hard the doc was to film. Back home, we learn about Chin's parents fleeing the communist revolution in China and the promise he kept with his mom to outlive her. We visit an emergency room with Ozturk when he fractures his skull and wonder if he'll prove a liability to his friends. And we get Anker's redemption story. After losing his best friend and climbing partner, Alex Lowe, to an avalanche in 1999, Anker married his widow, Jenni, and adopted her three sons. She has several of the film's best lines.
Given what Jenni's been through, it's unthinkable to imagine she might lose Anker, too, to his Meru obsession. But Chin is too devoted to Anker to call it off. Some viewers will find them selfish for proceeding, even as they pull for them to make it. "The rewards of climbing are huge," Krakauer says in Meru. "But when people die, you can't justify it. That's the great dilemma."
Before it's here, it's on the Bloomberg Terminal.
LEARN MORE