The Woman Donald Trump Cherishes Most of All Is His Daughter Ivanka
In an interview with Sean Hannity, Trump reveals that his daughter is his key adviser on women's issues, especially during last weekend's imbroglio with Fox News' Megyn Kelly.
By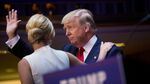 Donald Trump has a long list of those against whom he holds a grudge, and often marches through a partial recitation of it at campaign events. But his other list, of those he holds in the highest regard, has one name at the top: Ivanka Trump.