politics
Donald Trump Doesn't Have As Much Leverage With Mexico As He Thinks
The Republican front-runner's idea of how much foreign aid the United States gives its neighbor is more than slightly exaggerated.
By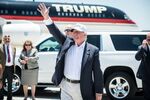 Donald Trump brims with confidence whenever he talks about sealing the southern border of the United States, and getting Mexico to pay for the wall.
"So easy," the Republican presidential frontrunner told Fox News on Tuesday, when Sean Hannity asked Trump how he's make the nation's neighbor cough up the cash.
"We give them tens of billions of dollars a year," Trump said, after mocking naysayers. "Their leaders are so much smarter than our leaders, Sean. They are ripping us left and right. The wall is peanuts."
A quick fact check shows the U.S. doesn't give Mexico tens of billions a year, and the cost of the wall is somewhat north of peanuts.
U.S. foreign aid to Mexico has averaged $233 million per year during the past five years, according to government records. Much of that goes to support clean energy, law enforcement and, yes, border security.
Also on Bloomberg Politics: Sorry Donald Trump, Mexico Says It Will Not Pay for Border Wall
Meanwhile, the cost of completing a wall along the 2,000-mile border would be in the billions. The U.S. spent $2.4 billion for 670 miles of fencing between 2006 and 2009, according to a Government Accountability Office report.
On Fox, Trump estimated that completing a wall along the southern border would require enclosing about 1,000 miles along the border. Using the previous costs as a benchmark, and without adjusting for inflation, that would put the total price tag for completion at $3.58 billion.
And that's just the wall. A Bloomberg Government analysis in 2013 estimated what it would cost to completely seal the border: $28 billion per year. 
Trump also told Hannity that he'd threaten Mexico with a tariff if it didn't build a wall. His spokeswoman didn't respond to an e-mail requesting additional detail. The problem that that scenario is that one country's tariff usually begets another. The prospect of a trade war is unlikely to be welcome news for businesses on the northern side of the border: Mexico is the United States' second largest export market, and third largest trading partner with $507 billion in total trade in 2013. 
"They need us so badly," Trump told Hannity. "And I'll be friends with Mexico. I'm going to have a great relationship with Mexico. We have a bad relationship with Mexico, and they're an abuser. China's an abuser. By the way, every country's an abuser because we have very stupid people representing us."
Mexican President Enrique Pena Nieto's administration says there's no truth to Trump's assertion that the nation would pay for a wall. "Of course it's false," Eduardo Sanchez, a Pena Nieto spokesman, told Bloomberg. "It reflects an enormous ignorance for what Mexico represents, and also the irresponsibility of the candidate who's saying it."
(Adds Pena Nieto spokesperson's comments in last paragraph.)
Before it's here, it's on the Bloomberg Terminal.
LEARN MORE