Cuomo Has No Plan to Attend Gateway Meeting With Foxx
Freeman Klopott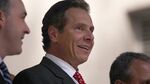 New York Governor Andrew Cuomo won't attend a meeting with U.S. Transportation Secretary Anthony Foxx to discuss reviving Amtrak's Gateway tunnel project under the Hudson River.
Foxx is set to be joined by Governor Chris Christie and U.S. Senator Cory Booker, both of New Jersey, in a meeting next week to discuss the $16 billion tunnel proposed by Amtrak in February 2011. The tube would connect New Jersey commuters to Manhattan and serve the Northeast Corridor rail line from Boston to Washington.
Beth DeFalco, a Cuomo spokeswoman, said in an e-mail that Cuomo isn't planning to attend.
Last week, Cuomo, a 57-year-old Democrat, rejected the federal government's offer of a loan to fund Gateway. He said neither New York, New Jersey, nor the Port Authority has the funds to pay for a loan.
The governor told reporters in New York City Aug. 9 that he's willing to meet but that doing so now would be of no use unless the federal government offers grants instead.
"I don't need your advice -- I know we need the tunnel," Cuomo said. "We'll build the tunnel. I'll go out there with a shovel myself, but we need the money."
The two existing 100-year-old tubes below the Hudson are at capacity. Damaged by Hurricane Sandy flooding in 2012, they have fewer than 20 years of service left, Joseph Boardman, chief executive officer of Amtrak, said last year.
Last month, New Jersey Transit suffered at least five days of delays into Manhattan. The agency blamed failures of equipment owned by Amtrak, the national passenger rail company, which operates the tracks used by the commuter railroad.
Christie's Cancellation
The Transportation Department is working with Amtrak to find money to build the Gateway tunnels, Foxx has said. Amtrak has asked the federal government to foot 80 percent of the cost, Stephen Gardner, executive vice president for Amtrak's Northeast Corridor business development, told New Jersey lawmakers Aug. 10.
Christie, a 52-year-old Republican running for president, in 2010 canceled a $12.4 billion tunnel project known as ARC, or Access to the Region's Core, citing design issues and potential cost overruns. The biggest planned U.S. infrastructure project at the time, ARC would have doubled peak rail service to Manhattan.
The cancellation of ARC allowed Christie to redirect $1.25 billion to plug transportation budget holes, paying for road and bridge projects. It also enabled him to avoid raising the gasoline tax, among the nation's lowest, before his presidential bid.