New York Startup to Fly First Legal Drone Over City as Ban Looms
Thomas Black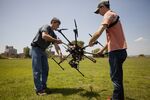 As New York City councilmen push for a restrictive ban on drones, a Brooklyn startup said it will launch the first legal commercial flight over the city on Thursday.
Aerobo Aerial Robotics will fly its pilotless craft using a federal permit, said Jon Ollwerther, vice president of marketing and operations. The company produces aerial footage for movies, television shows and commercials.
"It's going to be a $20 billion industry and if New York is missing out on that, New York has been left in the dust," Ollwerther said. "I definitely see a future in which we do a lot more business within New York City."
There have been drones over the city, but those were flown by hobbyists and people without official federal permission because the city doesn't currently restrict any flights. Bills introduced in December would limit most drone flights while the Federal Aviation Administration still works on rules for commercial use of the pilotless aircraft.

There are obvious good uses for the unmanned aircraft, though safety and privacy of New Yorkers come first, said Councilman Daniel Garodnick. His bill initially would ban flights except for the police armed with a warrant.
"The concerns relate to public safety with having drones flying overhead and potentially doing damage to property and human beings below," Garodnick said in an interview. "We need to have the FAA act here. Until they do, it's our job."
Hearings on the bills may begin in the fall, he said.
Follow the Rules
Garodnick said he's fine with Aerobo making its flight in the city as long as they have the permits and follow the rules.
While the FAA works on finalizing regulations for operating commercial drones weighing less than 55 pounds (25 kilograms), it has been granting exemptions to companies that qualify, including Aerobo. Since January, the agency has granted more than 1,150 exemptions.
The FAA's permission was very constraining. Under the exemption, Aerobo's drone can only operate up to the the height of 200 feet (61 meters) and must stay 500 feet away from buildings unless the owner grants permission. The drone has to be five miles (eight kilometers) away from any airport. The company also needs to have a licensed pilot at the controls, file a flight plan with the FAA and keep the drone within line of sight.
The FAA couldn't confirm whether the flight was a first for New York, according to an e-mailed statement. While the agency sets conditions for drone commercial operations under its waiver program, it doesn't track each flights, according to the statement.

The drone, a DJI S1000 that weighs about 22 pounds with all the equipment, will take place 5 p.m. local time tomorrow at the Industry City complex in Brooklyn, Ollwerther said.
New Yorkers shouldn't be alarmed about drones, he said. It's really just century-old technologies -- a camera and a flying machine -- combined in a new way, he said.
"As long as you're doing it safely, as long as you're taking proper precautions, nobody should have to worry," he said. "People can be bone-headed or nefarious with any technology."