Scott Walker Wins Former Nevada Governor's Backing Ahead of Visit
The candidate is headed to the state, which will hold one of the first four nominating contests, on Saturday.
By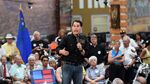 Wisconsin Governor Scott Walker has landed a former Nevada governor as his state chairman there, said a campaign official who wasn't yet authorized to speak publicly about the addition.
Joining Walker's team is Robert List, who was governor from 1979 to 1983 and is a former member of the Republican National Committee and former Nevada attorney general. More recently, List has worked as a senior partner at a Las Vegas law firm and as a lobbyist, including for taxi and limo companies opposed to the expansion of ride-hailing companies such as Uber in Nevada.
The pending announcement about his leadership role with the campaign comes ahead of a planned visit to the state Saturday by Walker, who is expected to attend state Attorney General Adam Laxalt's inaugural Basque Fry. Walker was last in the state July 14, the day after his formal campaign announcement. The Nevada caucuses in February 2016 are expected to be among the nation's first four state nominating contests.