Lawrence Lessig Wants to Be President for 'as Short a Time as Possible'
His campaign would be a long-shot bid with a singular focus.
By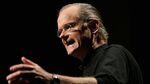 In 2011, the constitutional law scholar Lawrence Lessig published a book called Republic, Lost: How Money Corrupts Congress—and a Plan to Stop It. What might have been a simple book tour in subsequent years became something like a protest, a movement. Now, Lessig has decided to take his plan to the people—not as an author to an audience, or even a legal theorist to students, but as a candidate to voters. On Tuesday morning, Lessig will formally announce that he plans to form an exploratory committee that will help him decide whether to seek the presidency as a Democrat. This may be a long shot, opposite formidable candidates like former Secretary of State Hillary Clinton and Vermont Senator Bernie Sanders, but Lessig wants to be the change. He would certainly be an unconventional president. Unlike other candidates, Lessig is vowing to run, and then lead, on one issue alone—and then resign as soon as it's solved.