politics
Hillary Clinton Says Scott Walker Seemed Delighted to Cut Higher Ed
The Democratic candidate attacks her Republican rivals just a day after rolling out a proposal for $350 billion in new spending on higher education.
By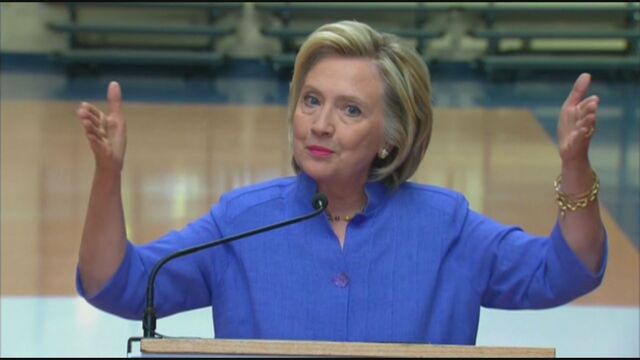 After rolling out her proposal for $350 billion in new spending on higher education, Hillary Clinton on Tuesday attacked one of her top Republican rivals for cutting spending on his state's colleges and universities.
Wisconsin Governor Scott Walker "seems to be delighted in slashing the investment in higher education in his state," Clinton said at River Valley Community College in Claremont, N.H.
The Democratic front-runner also took aim at the whole Republican field, saying that during last week's two Republican debates, "there was not one word from one of those candidates about making college more affordable or dealing with debt." (And, she joked to those in the crowd who'd watched the 17 candidates, "I admire you greatly for that.")
But Clinton kept her sights focused on Walker, charging him with making it "more difficult for students to get scholarships or to pay off their debt, eliminating opportunities for young people who are doctors or dentists to actually work in underserved areas in return for having their debt relieved and ending scholarships for poor kids."
And, she added, "most surprisingly to me, rejecting legislation that would have made it tax deductible for you on your income tax to deduct the amount of your loan payment. I don't know why he wants to raise taxes on students but that's the result."
Walker shot back in a statement: "Hillary Clinton is offering the same bait and switch as President Obama, making promises to students while delivering higher tuition costs and tax increases. As governor, I froze college tuition at Wisconsin colleges four years in a row. Americans need a leader who delivers results not empty promises." Then he followed up by tweeting at the Democratic front-runner:
Clinton's comments on the second-term governor came after a string of recent attacks from Clinton on other Republicans toward the top of their party's field. On Monday, she called Donald Trump's rhetoric on women "offensive" and charged Florida Senator Marco Rubio with taking an "offensive and troubling" stance on abortion, and last week focused on former Florida Governor Jeb Bush, accusing him of supporting policies that hurt minorities and the poor.
The Clinton campaign sees Walker as a ripe target on higher education.
Earlier this year, he proposed $300 million in cuts to the University of Wisconsin System over two years, which Republicans in the state legislature reduced to a $250 million cut that Walker signed into law last month, just before launching his presidential campaign.
The budget extends the university system's existing tuition freeze for two more years and removes tenure protections from state law. It also the eliminates loan forgiveness program cited by Clinton, which was available to health care providers who worked in underserved communities for at least three years.
(Contributing: John McCormick)
(Adds Walker comments.)
Before it's here, it's on the Bloomberg Terminal.
LEARN MORE