politics
Obama Says Race Talk Easier as He's Gotten Groove of Presidency
Toluse Olorunnipa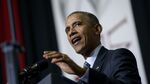 President Barack Obama said he's spoken out more on racial issues during his second term because of events and being more adjusted to office -- not because he's run his final political campaign.
"That I don't buy," Obama said in a video interview with NPR News, when asked if addressing race was easier now that he will no longer face voters. "If, in my first term, Ferguson had flared up, as president of the United States, I would have been commenting on what was happening in Ferguson."
Obama's comments come as the city of Ferguson, Missouri, marks the one-year anniversary of the death of Michael Brown, an unarmed black teenager who was shot to death by a white police officer. The city erupted into violent protests that later spread across the U.S., sparking a national conversation on race relations.
Obama addressed the nation amid the protests over Brown's death last August, and again in December when riots resumed after prosecutors declined to charge the officer. In the months since, he has spoken often about racial issues, from police brutality to voting rights to criminal justice.
The first black U.S. president, who caused a firestorm by using a racial epithet to make a point on race relations during a podcast interview in June, also said he's freer to talk about the sensitive topic because he's better adjusted to life in the Oval Office.
"After over six and a half years on this job, I probably have an easier time juggling a lot of different issues," Obama told NPR. "It may be that my passions show a little bit more, just because I've been around this track, now, for a while."
The interview is scheduled to be available online on Aug. 11, and will be broadcast on NPR's "Morning Edition" in two parts, on Aug. 11 and Aug. 12.
Before it's here, it's on the Bloomberg Terminal.
LEARN MORE