politics
The 5 Most Important Takeaways From the First Debate of 2016
Why Donald Trump being Donald Trump is a problem, why Jeb Bush is lucky to be a Bush, and how Carly Fiorina broke through from the undercard to the main event.
By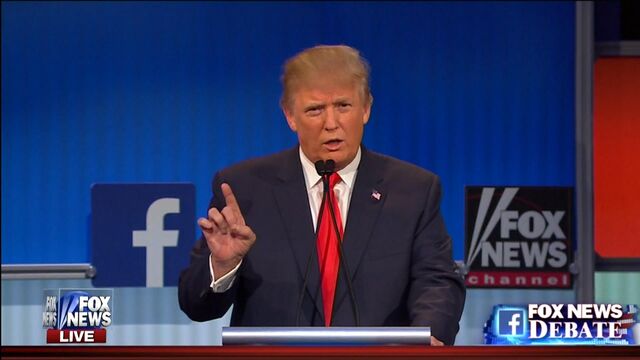 "It's over!" exclaimed Megyn Kelly at 11:03 p.m., just slightly more than two hours after the start of the Fox News prime-time debate in Cleveland—bringing to a close an event that John Weaver, the chief strategist for Ohio Governor John Kasich, compared in terms of media anticipation to the chariot race in "Ben Hur." The debate was not quite that spectacular, but it was certainly a wild ride. Anyone who expected politesse or a gentle, soothing entry into the forensic stage of the GOP nomination fight was quickly disabused of such fantasies. And this was not just because of the surreal, pyrotechnic presence of Donald J. Trump on the stage. There will be acres of analysis of the inaugural debate in the days to come, but herewith five big insta-takeaways from the Quicken Loans Arena in Cleveland:
1. Donald Trump was Donald Trump … and that was a problem 
From the very first question, regarding the candidates' willingness to foreswear launching an independent bid for president, Trump was at the center of the action. (The explanation he coughed for his refusal to take that pledge was a combination of word salad and verbal hash.) His answers from then on provided fuel for Trump skeptics on both right and left, from his suggestion that single-payer health care might at one point have worked in the U.S. to his sure-to-be-played-in-an-infinite-loop-on-cable reply to Kelly's tough-as-nails question about his verbal abuse of women ("only Rosie O'Donnell"). Whether these and other answers—including his tacit endorsement of pay-to-play, coupled with the vivid suggestion that his campaign donations to Hillary Clinton in effect bought her attendance at his wedding—will dent Trump's support with his core supporters remains to be seen. But it is hard to imagine his performance did much to expand his appeal to a wider swath of voters, and impossible to argue that it made him seem presidential.
Also on Bloomberg Politics: Donald Trump Doubles Down in Combative First Republican Debate
2. Jeb Bush did nothing to reclaim the front-runner's mantle
He made no errors, committed no gaffes, and contrary to some predictions, wasn't turned into a piñata by his rivals. But aside from a strong and confident answer on Common Core, he was mostly flat, wooden, and halting, and rarely crisp, commanding, or inspiring. Former senior Obama White House adviser Dan Pfeiffer tweeted, "The frontrunner should be better, much better. If his name wasn't Bush, he would be done." And it was difficult to find many non-Bush-backing GOP commentators who disagreed.

3. The night's big winners were John Kasich, Marco Rubio … and Carly Fiorina
Sure, the Ohio governor was playing before a friendly, home-state crowd. But he made the most of every opportunity he had in the spotlight, coming across as authentic and charismatic—and speaking in what one savvy student of debates called the grammar of optimism. Though Rubio occasionally sounded a bit too much the senator, his answers were smooth, smart, and convincing, presenting conservative policies compellingly and his biography affectingly. As for Fiorina, she was, of course, not on the prime-time stage, but her performance in the undercard debate was so strong that Fox News chose to present a striking video clip of it to the top 10. The clip made clear how much her presence was missed, and led to rapidly forming consensus that, one way or the other, she should be in prime time next time. 
Also on Bloomberg Politics: Fox Debate Questions Make Good TV, at Some Candidates' Expense, by Melinda Henneberger
4. The night's big losers were Ben Carson and Rand Paul … for different reasons
The Carson phenomenon has always been a difficult thing to parse. His biography is a big part of it, to be sure, and so his appeal as an outsider. But every time the good doctor opened his mouth, the energy level on stage palpably plummeted; his affect was less appealingly low-key than somnolent. Paul, by contrast, was full of life, but his irritability and thin-skinnedness were on display in a testy exchange with New Jersey Governor Chris Christie over the NSA (which Christie clearly got the better of); his eye-rolling became an instant GIF sensations on the interwebs. And even when the Kentucky senator wasn't visibly annoyed, he seemed screechy and off-key.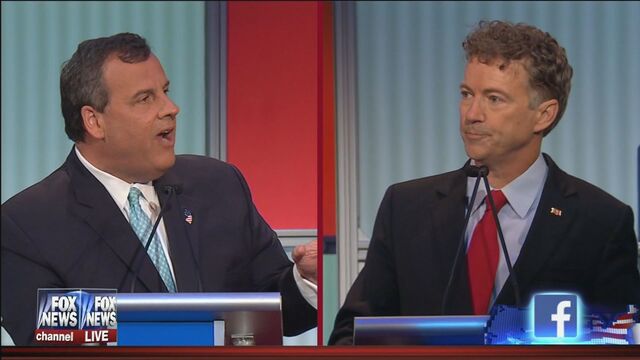 5. The Fox News moderators killed
Given the nearly impossible task of dealing with such a crowded stage, Kelly, Brett Baier, and Chris Wallace weren't entirely successful. The pace of the debate was at times too frenetic and militated against anything that resembled a probing, thoughtful exploration of substance. But those failings were far outweighed by the quality of the questions: challenging and pointed without an ounce of gotcha, with Kelly in particular delivering a bravura performance. Some wag on the Twitters observed that this was the happy result of a set of moderators who could proceed with no fear of being labeled biased. And while that may not bode well for future non-Fox News journalists in the same position, for one night, at least, it was a welcome sight to see.
Watch: All the Ways Candidates Tried to Outshine Trump
Kendall Breitman contributed to this article.
Before it's here, it's on the Bloomberg Terminal.
LEARN MORE