Schumer to Oppose Iran Nuclear Accord in Setback for Obama
David Lerman and Billy House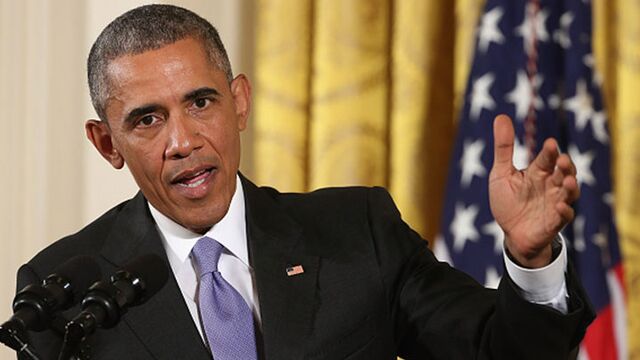 Senator Chuck Schumer, an influential New York Democrat, said he will oppose the Iran nuclear agreement, a setback for President Barack Obama's efforts to ensure the deal survives a review by U.S. lawmakers.
Declaring his break with the president after weeks of silence, Schumer said he favored preserving U.S. sanctions on Iran and resuming negotiations to reach a tougher accord that guarantees the Islamic Republic won't obtain a nuclear weapon.
"I will vote to disapprove the agreement, not because I believe war is a viable or desirable option, nor to challenge the path of diplomacy," Schumer said in a statement Thursday night. "Iran will not change, and under this agreement it will be able to achieve its dual goals of eliminating sanctions while ultimately retaining its nuclear and non-nuclear power."
Lawmakers have until the end of the day Sept. 17 to complete their review of the accord. Obama has been waging a high-profile campaign to build congressional support since it was announced last month, warning earlier Thursday that the Iran nuclear deal comes down to a choice "between diplomacy or some form of war."
Elaborating on a speech he delivered Wednesday, Obama said in an interview with CNN's Fareed Zakaria GPS that Republican opponents of the accord are taking up the same cause as Iranian "hardliners" who also want to see it scuttled. The Senate Republican leader, Mitch McConnell, has said Obama is attempting to "demonize" opponents of the deal.
'Ideological Commitment'
Obama drew a distinction between Republican and Democratic opponents, according to an excerpt of the interview CNN released Friday.
"The reason that Mitch McConnell, and the rest of the folks in his caucus who opposed this jumped out and opposed this before they even read it, before it was even posted, is reflective of an ideological commitment not to get a deal done," Obama said.
If lawmakers pass a resolution of disapproval -- the likely outcome in the Republican-led House and Senate -- Obama has said he will veto it. The White House is counting on having enough Democrats in support of the Iran deal to sustain a veto, which would stand unless two-thirds of Congress votes to override it.
Schumer's Clout
Schumer, in line to become his party's next Senate leader, may be more consequential than any of the Senate Democrats who are still undecided over whether to back the deal. His decision prompted an angry response from former Obama administration officials, some of whom suggested it may imperil Schumer's plan to succeed Senate Democratic leader Harry Reid.
"The base won't support a leader who thought Obamacare was a mistake and wants War with Iran," Dan Pfeiffer, the former senior adviser to the president, tweeted.
Tommy Vietor, a former spokesman for Obama's National Security Council, said Schumer's opposition probably won't change the president's calculations on the congressional review.
"Obama will get the votes he needs," Vietor said. "But I also think going against the president and the majority of Democrats this early damages Schumer's standing in the party and puts more pressure on his colleagues, who I'm sure don't appreciate it."
MoveOn.org, a group aligned with the Obama administration, said it was starting an effort to withhold campaign contributions from the Democratic Senatorial Campaign Committee and from other party candidates.
Baldwin, Shaheen
Schumer so far is alone among Senate Democrats in announcing opposition to the agreement. After he disclosed his position, two more of his Democratic colleagues, Tammy Baldwin of Wisconsin and Jeanne Shaheen of New Hampshire, said they would support the accord.
On Thursday, Schumer's New York Democratic colleague, Kirsten Gillibrand, declared her support, a day after similar announcements from Senate Democrats Chris Murphy of Connecticut, Patrick Leahy of Vermont, along with Martin Heinrich and Tom Udall of New Mexico.
Earlier this week, Senate Democrats Barbara Boxer of California, Bill Nelson of Florida, and Tim Kaine of Virginia announced their support. Senator Angus King of Maine, an independent, also said he would back the deal. Senators Dianne Feinstein of California and Dick Durbin of Illinois had previously indicated support.
At least six Democrats in the House have announced they would vote against the deal.
Jewish Constituency
Schumer has been caught between a large Jewish constituency in New York skeptical of the accord and the White House, which is waging a full-court press to safeguard the biggest foreign policy achievement of Obama's second term. Israeli Prime Minister Benjamin Netanyahu has denounced the deal, and most Republicans in Congress have as well.
Schumer's decision came a day after Obama defended the nuclear deal between Iran and six world powers with an aggressive speech that accused opponents of favoring the "drumbeat of war" over diplomacy.
Rejecting that charge, Schumer said, "Better to keep U.S. sanctions in place, strengthen them, enforce secondary sanctions on other nations, and pursue the hard-trodden path of diplomacy once more, difficult as it may be."
Describing the upcoming vote as "momentous" and his decision as "a difficult and deliberate endeavor," Schumer cited what he called "serious weaknesses" in the inspections process that would govern Iran's nuclear program over the next 10 to 15 years. After that, when many restrictions would expire, Iran would become "a nuclear threshold state with the blessing of the world community."
Schumer's Argument
While the deal may make sense if Iran's government becomes more moderate over the next decade, Schumer said, "the very real risk that Iran will not moderate and will, instead, use the agreement to pursue its nefarious goals is too great."
John Kerry, the U.S. Secretary of State, said at a news conference Friday in Vietnam that the agreement would leave Iran "physically impossible to build a bomb" even after 15 years, because of constraints on the country's ability to enrich and stockpile uranium.
'Profoundly Disagree'
"I profoundly disagree," Kerry said of Schumer's remarks. "I would respectfully suggest that rejection is not a policy for the future. It does not offer any alternative."
Schumer, the senior New York senator, has long viewed himself as one of the most prominent defenders of Israel in Congress -- if not the most prominent. Pressure was building on him to prove that.
In 2010, Schumer told a radio interviewer that his name comes from the Hebrew word shomer, which means guardian. He said one of his roles in the Senate is to be "a shomer for Israel and I will continue to be that with every bone in my body."
McConnell, of Kentucky, declined Thursday to "handicap the outcome" on whether senators have the votes to override Obama's promised veto if Congress sends him a resolution rejecting the agreement.
Schumer said in an interview that others in Congress shouldn't base their decisions on his opinion of the accord.
"This is a decision of conscience, you've got to make up your own mind," he said at the Capitol on Wednesday.