Carly Fiorina's Debate Performance Invites New Scrutiny of HP Tenure
Mark Niquette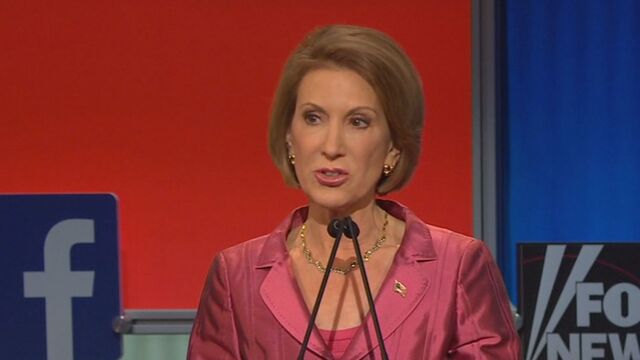 Carly Fiorina's focused, businesslike presentation at the lesser of two Republican presidential debates propelled her toward the spotlight. Its glare will also fall upon her tenure as chief executive officer at Hewlett-Packard Co.
Fiorina has touted her rise to the top from a start as a secretary at a small real estate company. After a rocket-like ascent, she was fired from HP in early 2005 amid tumult with her board of directors after missing Wall Street expectations too often and the company's stock price falling 54 percent on her watch.
"For a lot of people, that is still going to be a new story," said David Winston, president of the Winston Group, a Washington strategy firm, who worked for former House Speaker Newt Gingrich's 2012 presidential campaign. "That's going to be an element of her record that she'll clearly have to explain and walk people through."
On Thursday, Fiorina was relegated to what was mocked as the Cleveland "kiddie table" debate, a meeting of seven low-polling candidates. She won praise and even anointments as the winner for her crisp and defiant rejoinders to those who say her lack of political experience should disqualify her.
"Before last night's debate, only 40 percent of Republican voters knew my name," Fiorina said Friday at the Red State Gathering, a conservative conference in Atlanta. "Maybe it's changed today."
Roller Coaster
Fiorina, 60, became CEO at HP in 1999. On her campaign website, she promotes having been the first woman to lead a Fortune 50 business, and cites the technology firm's rise to being the 11th largest U.S. company from the 28th under her leadership.
As CEO, Fiorina bought Compaq for $24 billion, held managers accountable by benchmarking HP against the day's nimbler competitors and foresaw industry consolidation.
Yet her decision to double down on PCs weighed on profitability for years, undermining Bill Hewlett and Dave Packard's ethos of employee autonomy and job security.
She tried to bolster the company by reselling Apple's iPod and hiring pop singer Gwen Stefani to hawk digital cameras. That wasn't enough to prevent the stock price from plunging.
There was an upheaval after board members divulged information about meetings to reporters, and company directors spied on employees and reporters to learn who had done the leaking.
After her departure, HP churned through three CEOs in seven years.
The Fiorina Effect
Since leaving, Fiorina has served in advisory and policy positions, as well as chairman of the American Conservative Union Foundation and the charitable organizations Opportunity International and Good360. She also ran unsuccessfully for the U.S. Senate in California in 2010.
Fiorina's corporate tenure already has been a target for critics, including Republican front-runner Donald Trump.
"She's a nice woman, but she got fired viciously from Hewlett-Packard," Trump told the Des Moines Register in May. "As soon as it was announced that she'd been fired, Hewlett-Packard stock went up."
The Democratic National Committee also issued a release immediately after the debate, saying, "Carly Fiorina drove HP into the ground."
Asked about the criticism Thursday, Fiorina defended her record.
"I led Hewlett-Packard through a difficult time," Fiorina told reporters after the debate. "The dot-com bust, post 9-11, worst technology recession in 25 years."
Fiorina's website also says that while she didn't always make the most popular decisions, they would be proved right.
"Even though her record as CEO speaks for itself, Carly faced headwinds from people who did not want to see HP change," the website says.
Second Chances
Fiorina's firing shows her ability to rebound, said Rob Maness, a retired Air Force colonel from Madisonville, outside New Orleans, who ran for Senate last year.
"If you haven't failed and showed the character to recover, you haven't really succeeded," Maness, 53, said in an interview at the Red State Gathering of conservatives in Atlanta. "I see that as a positive."
Still, it was widely believed that she was forced out at HP because she didn't work well with other executives and was "dictatorial and distant," said Erik Gordon, a professor at the University of Michigan's Ross School of Business.
She also will be criticized for taking bonuses and a multimillion-dollar "golden parachute" while thousands of workers were fired, he said.
"The proposition that she was a good leader at HP was attacked when she was at HP and will be attacked now that she is touting it," Gordon said in an e-mail.
Charlie Cook, editor of the nonpartisan Cook Political Report in Washington, said that Fiorina "was the class" of the early debate and that it wouldn't be surprising to see her poll numbers increase, qualifying her for the next one.
"I started this campaign almost from a standing start and, let's face it, a lot of people probably underestimated me," Fiorina said Friday in Atlanta.
A new level of scrutiny awaits her, said Ron Bonjean, an unaffiliated Republican strategist in Washington who saw Fiorina as the early debate's clear winner.
"She's been a second-tier candidate, but she really knocked it out of the park," Bonjean said. "That means that her campaign will have to be ready for a more powerful spotlight."