Saving Baltimore From Itself
The city's new police chief is working on a miracle.
By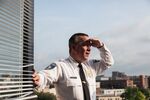 It's 8:45 a.m. on an already steamy July Monday. Kevin Davis, Baltimore's interim police commissioner, is sitting alone at his desk, studying the daily crime report. The numbers are grim: In the less than two weeks since he took over as the city's top cop, 15 people have been killed. By the end of July, the total would be 45—tying the city's record for a single month. That follows 41 homicides in May and 29 in June, a murder rate that rivals that of the bloody 1990s. His job right now is to reverse the trend. The trick will be to aggressively crack down on crime while repairing the broken relationship between his force and the community it's supposed to protect. "This is like building an airplane in midflight," Davis says, placing the packet of crime statistics back on his desk, rubbing his ruddy cheeks, and staring out his fifth-floor window.
In late April the city erupted after the death of Freddie Gray, a 25-year-old African American who suffered severe spinal injuries while in police custody. More than 280 businesses were destroyed or damaged in a week of rioting, according to federal estimates. Baltimore is preparing for another possible round of unrest this fall, when the six police officers charged in connection with Gray's death are scheduled to go on trial. "The city is at a critical point," says City Council President Bernard "Jack" Young. "If we don't do this thing just right, we can have mayhem in this city."
Davis, a white 46-year-old who built his career in the Maryland suburbs between Baltimore and Washington, is enjoying a honeymoon period. He replaced Anthony Batts, an experienced black police leader who spent most of his career in California. Batts arrived in Baltimore, where 63 percent of the 622,000 residents are black, in 2012. By last year, Baltimore's homicide rate had dropped dramatically: Only 211 people were slain in 2014, the second-lowest total since the 1980s.

Then came the riots and their aftermath. Theories abound as to what triggered the crime wave: pent-up anger uncorked by Gray's death following a year of public outcry over similar episodes across the country, starting in Ferguson, Mo.; a slowdown in enforcement by demoralized cops; a power vacuum created by the recent indictment of major gang leaders; a flood of lucrative prescription drugs stolen from local pharmacies washing through the market. On July 8, Batts was unceremoniously dismissed by Mayor Stephanie Rawlings-Blake, who said publicly that political infighting over his performance was interfering with efforts to address the violence.
He was replaced that day by Davis, who'd joined the department—the nation's eighth-largest—only in January as head of its investigative units. One of his first executive orders: rescinding a rule that prevented officers with tattoos on their arms from wearing short-sleeve uniforms, even in the heat of summer. It was a minor gesture but one he hopes sent the message that he wants to make it easier for officers to do their jobs well. "I need these guys to get into the crime fight," Davis says. "With cops, it's the little things."
He's moved quickly to address complaints, fixing ineffective work schedules, revamping the department's organizational chart, promoting nearly 20 commanders to fill open slots, and temporarily putting dozens of administrative officers back on the streets. He's created a war room to help analysts, detectives, and prosecutors share information about the most murderous gang leaders, with the goal of getting them behind bars.
One of Davis's most pressing concerns is making sure his officers get training in handling mass disturbances. At a weekly meeting of his top staff, a commander reports that slightly more than 700 of Baltimore's 2,800 officers have been through the refresher course—but he assures Davis that everyone will go through it before September, when hearings are scheduled for the officers in the Gray case.

The commanders tell Davis they need new equipment. The wish list includes in-car and body cameras, a rescue truck, laptop computers, and license-tag readers. Davis says they need to come up with a catalog the city can present to the U.S. Department of Justice, which is conducting a wide-ranging civil rights probe into his force. While some chiefs might resent the federal interference, Davis welcomes it. Having worked through a similar probe during his time at the department in Maryland's Prince George's County, east of Washington, Davis believes the DOJ investigation will provide the political catalyst he needs to remake his force. He's establishing a team whose only job is to interact with federal investigators to speed implementation of changes as quickly as possible. "This will help us in the long run," he says. "It's also hard to say no to a federal judge."
Chiefs in other cities battling serious crime problems and seeking to repair strained relations with minority residents are watching Davis, says Chuck Wexler, executive director of the Police Executive Research Forum, a nonprofit specializing in management studies of law enforcement. The group was hired by the Baltimore Police Department to conduct a review of its response to the April riots. "It's a big city, and it's got all of the issues," Wexler says. "It has a community that is on edge. It's got a police force on edge. It has a high crime rate. It's the middle of the summer, and the trial of the officers is coming up. There is a lot hanging in the balance, and there is no question that major city chiefs are looking to Baltimore, and they are thinking, 'There but for the grace of God go I.' "
After finishing his staff meeting, Davis heads back to his office and starts returning calls. The commissioner has passed out his cell number to everyone from neighborhood association presidents to the sister of a man who died in police custody. He's visited a Jewish day camp, sat with the parents of homicide victims, and solicited the help of current and former gang members. "At this point, I'll try anything that might work," he says. In each encounter, he asks for help. He often gets requests in return—none are too small for his attention. When a community leader complains about drug dealers on a busy street corner, he detours to the spot and personally shoos away two before texting a commander to get officers into the area.
He also takes the time to visit station houses for roll call. "I need warriors and community ambassadors," he tells 18 members of the Northwestern District before they hit the streets one afternoon, explaining that they will interact with many more people than he ever can. To gauge their community-building skills, he poses a question: How many times do they say hello to residents on any given 10-hour shift? An officer finally replies that he says hello to maybe five people during a normal patrol. Davis shakes his head and bites his lip, trying to contain his frustration. He doesn't want to embarrass the officers; they seem earnest and dedicated, and he desperately needs them on his side. But five hellos isn't enough. Not nearly. "It starts with hello," he says. "It starts with you."