Saving Baltimore From Itself
The city's new police chief is working on a miracle.
By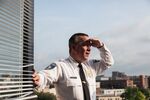 It's 8:45 a.m. on an already steamy July Monday. Kevin Davis, Baltimore's interim police commissioner, is sitting alone at his desk, studying the daily crime report. The numbers are grim: In the less than two weeks since he took over as the city's top cop, 15 people have been killed. By the end of July, the total would be 45—tying the city's record for a single month. That follows 41 homicides in May and 29 in June, a murder rate that rivals that of the bloody 1990s. His job right now is to reverse the trend. The trick will be to aggressively crack down on crime while repairing the broken relationship between his force and the community it's supposed to protect. "This is like building an airplane in midflight," Davis says, placing the packet of crime statistics back on his desk, rubbing his ruddy cheeks, and staring out his fifth-floor window.