Carly Fiorina Attacks Jeb Bush For 'Foolish' Comment on Women's Health
The only woman in the GOP presidential field describes the former Florida governor's comments as "foolish."
By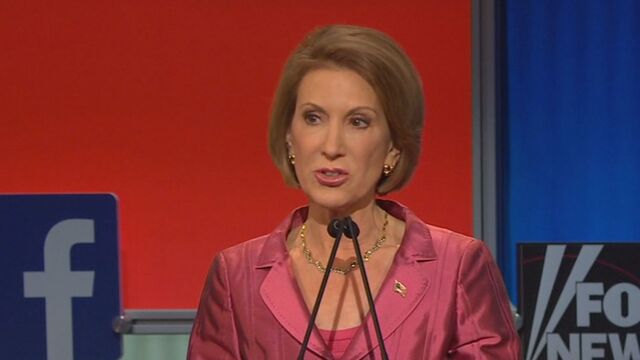 Carly Fiorina took aim at Jeb Bush on Thursday over the former Florida governor's comments earlier in the week in which he said he was "not sure we need half a billion dollars for women's health issues."
After a Fox News debate in Cleveland for second-tier candidates who didn't make the top 10 in recent polls, Bloomberg asked Fiorina, the only woman in the 17-member Republican presidential field, for her response to the former Florida governor's choice of words.
"I think it's going to become an ad in a Democrat campaign. Hillary Clinton jumped all over it for a reason—because she saw an opportunity," Fiorina said. "And it is foolish to say that women's health isn't a priority. Or course it's a priority. We can talk later about how and where that money gets spent. But it is Democrats who want to talk about women's health when they talk about Planned Parenthood."
Bush, who was referring to the amount of federal money that goes to Planned Parenthood annually, tried to clean up his remark shortly after making it on Tuesday, saying he "misspoke." 
The issue has put Republican candidates on the spot as recent videos have surfaced showing Planned Parenthood discussing the cost of fetal tissue, which critics say is evidence of them attempting to illegally sell it, an allegation that the organization denies. Like nearly all other Republicans, Fiorina strongly endorsed the push to defund the women's health provider.