Who's Got a Piece of the $4 Billion LaGuardia Project?
A look at some of the power players and interested parties
By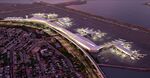 New York's LaGuardia Airport is truly in a league of its own. Despised as decrepit and inefficient, the airport is scheduled for a $4 billion overhaul, pushed aggressively by New York Gov. Andrew Cuomo, to be completed in 2021 or 2022. LaGuardia's three primary terminals are to be merged into one, with a large central arrivals and departures hall.