Jeb Bush Says He 'Misspoke' About Spending for Women's Health Issues
The former Florida governor walks back a comment about what to do with money allocated to Planned Parenthood.
By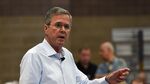 Jeb Bush's communication woes continue. 
Interviewed on Tuesday at the Southern Baptist Convention in Nashville, Tenn., the former Florida governor and well-funded presidential candidate sought to join in on the Republican bashing of Planned Parenthood. After calling for Congress to defund the women's health organization, Bush went off-script when he ventured what might be done with the $500 million in federal money that is allocated to Planned Parenthood each year. 
"You could take dollar for dollar—although I'm not sure we need half a billion dollars for women's health issues," he said, "but if you took, dollar for dollar, there are many extraordinary fine organizations, community health organizations, that exist, federally sponsored organizations, to provide quality care for women on a variety of health issues."
Citing the "I'm not sure we need half a billion dollars for women's health issues" portion of his remarks, Democratic front-runner and staunch Planned Parenthood defender Hillary Clinton blasted Bush on Twitter. 
Whether or not Bush saw Clinton's rebuke, or the thousands more that flooded Twitter on Tuesday afternoon, the candidate quickly released a statement walking back his earlier remarks. 
"With regards to women's health funding broadly," Bush said in the statement, "I believe there are countless community health centers, rural clinics, and other women's health organizations that need to be fully funded. They provide critical services to all, but particularly low-income women who don't have the access they need."
Since declaring himself a presidential candidate, Bush has left voters scratching their heads after saying the U.S. needs to "phase out" both Medicare and tax credits for energy companies, only to later issue clarifications. In May, Bush was forced to walk back his own assertion that, with the benefit of hindsight, he still would have authorized the invasion of Iraq.