Bulk of Trump Supporters Would Back Third-Party Bid
Nineteen percent of respondents in the poll overall said they would definitely or probably vote for him if he ran third-party in a general election.
By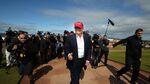 Donald Trump could take a major chunk of his support with him to a third-party bid if the Republican Party ultimately fires him in the presidential nomination race, a Bloomberg Politics poll shows.
The national survey, conducted ahead of Thursday's first presidential debate, shows almost two-thirds of registered voters who identify as Republican and back the billionaire would definitely or probably support him in a third-party bid.
Trump is the first choice of 21 percent of that group, more than twice the national support of his nearest rival, former Florida Governor Jeb Bush, the poll found. Trump's strength has been fueled by both his celebrity status and his ability to tap into an unhappy and unsettled electorate amid a historically crowded field of candidates.
None of this means an independent bid looks promising for Trump, at least at the moment. Nineteen percent of respondents said they would definitely or probably vote for him if he ran as a third-party candidate in a general election. The real estate magnate, now leading in national Republican polls, hasn't ruled that possibility out.
"If I'm treated fairly by the Republican Party, I would have no interest in doing that," Trump said on ABC's This Week on Sunday. "If I'm not treated fairly by the Republican Party, I very well might consider that. And I would certainly not give that up."
See the methodology and questions here.

J. Ann Selzer, Bloomberg's pollster, said the results show the commitment of some Trump supporters. 
"Some voters are enthralled enough to say they would definitely or probably vote for him as a third-party candidate, even though they prefer someone else for the Republican nomination," she said. "I can't say it is a lot of people, but if there has been a lesson in these polls, it is not to underestimate Trump's upside potential." 
Selzer & Co., based in West Des Moines, Iowa, conducted the poll from Thursday through Sunday. It included 500 adults who say they're registered Republicans or registered as no party but lean Republican. The margin of error is plus or minus 4.4 percentage points on the full sample, and higher in subgroups such as Trump supporters. 
The most recent, high-profile bid by a third-party presidential candidate was that of Texas billionaire Ross Perot, who won 19 percent of the vote in 1992. Republicans still blame him for Bill Clinton's victory over President George H.W. Bush.
"I would prefer to see a Republican, but if Donald Trump were to go independent, I would vote for him because I feel he would be the best of all the candidates," said poll respondent Kathy Hampton, 56, an in-home health aide who lives in West Jefferson, North Carolina. "I think he's the most truthful. People are tired of bulls--t."
Paul Brown, 47, a medical consultant and Republican-leaning independent who lives in St. Louis, said he does worry Trump could help a Democratic candidate win the White House if he runs as an independent. "But if he actually ran as an independent, hopefully, he could also siphon some of the Democratic votes," he said.
Since announcing his presidential bid seven weeks ago, Trump has seen the proportion of Republicans who say they would never support him drop considerably in state and national polls.
Among registered voters who identify as Republicans in the Bloomberg survey, just 37 percent say they could never support Trump for president. That's 5 percentage points higher than Bush, but six percentage points lower than for New Jersey Governor Chris Christie.