politics
Louisiana's Jindal Cuts Planned Parenthood Medicaid Funds
Margaret Newkirk and Zachary Tracer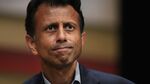 Louisiana Governor Bobby Jindal, a Republican candidate for president, is ending the state's Medicaid agreement with Planned Parenthood.
Jindal said he was terminating the contract because of videos circulated by an anti-abortion group. The videos showed Planned Parenthood employees discussing preserving aborted fetal body parts "so that they can be sold on the open market," according to his statement. Jindal said the state is also concerned that chapters could be recommending abortions to clients in violation of Louisiana law.
"This is an organization not worthy of receiving public assistance from the state," Jindal said in the news release. Medicaid is a joint state-federal health-care program for the poor. Under decades-old law, federal funds can't be spent on abortions.
Planned Parenthood provides family planning, screening for cancer and sexually transmitted diseases, and contraception in addition to terminating pregnancies. It's been a target of conservative Republican politicians for years. The group says it abides by a law that allows providers to be reimbursed for the costs of processing tissue donated for research by women who had abortions. It has apologized for some of the contents in the video.
Car Burning
Jindal is one of four sitting governors vying for the Republican nomination. Although Wisconsin's Scott Walker called for a state-by-state campaign to defund Planned Parenthood last month, Jindal is the first to terminate its Medicaid contract, giving the organization a 30-day notice of its cancellation.
The U.S. Senate on Monday blocked a Republican bill to halt federal funds for the organization, with votes coming mostly along party lines, according to the Associated Press.
In Louisiana, hostility toward Planned Parenthood included a car arson at a New Orleans clinic construction site last week, said Melissa Flournoy, the organization's state director.
More than 15,000 people visited that state's Planned Parenthood clinics last year, Flournoy said in a statement.
In a state where public health funding has already been cut, "eliminating a trusted and high-quality provider will jeopardize health care for women and men across Louisiana," she said.
Nationally, 36 percent of all people who get care from a publicly funded family planning center go to Planned Parenthood, according to the Guttmacher Institute, which studies reproduction issues.
States typically haven't been successful in removing Planned Parenthood from their Medicaid programs in the past, losing in court, said Elizabeth Nash, senior state issues advocate at the institute.
The videos are an excuse to go after Planned Parenthood for its broader role, Nash said.
"What it shows is just the animosity to Planned Parenthood," she said.
Before it's here, it's on the Bloomberg Terminal.
LEARN MORE